Day 4 Albuquerque – Santa Fe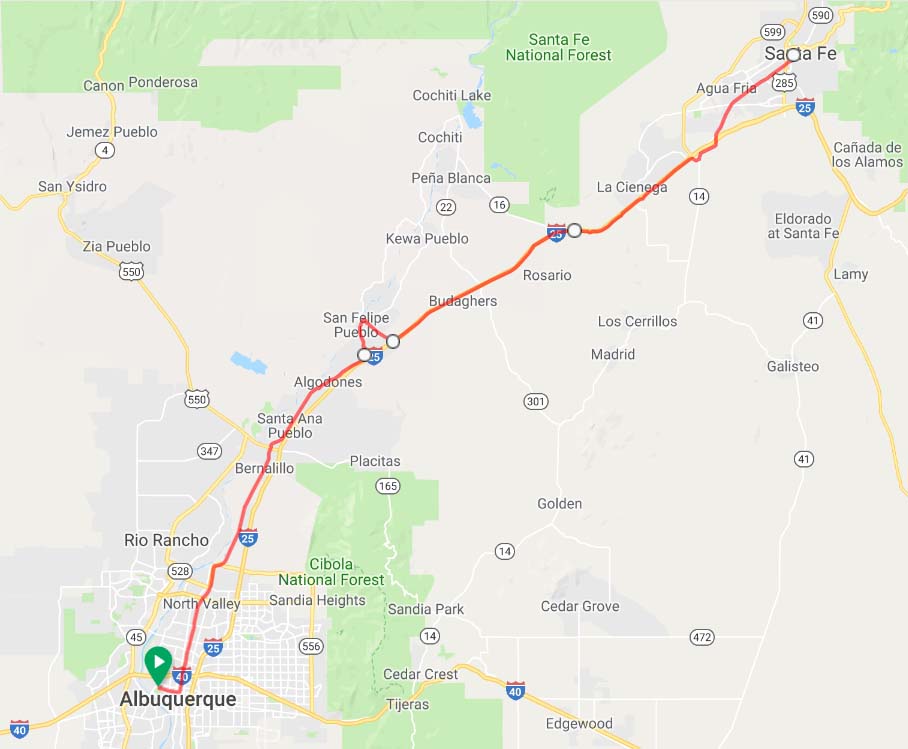 Our stay at Casas de Suenos in Albuquerque was terrific. The room was cool, the décor and landscaping were awesome and the customer service was great. We walked around old town Alb. in the morning before taking off for Santa Fe and an afternoon of Rest and Relaxation.
Navigation the route has been a bit of challenge with Kathy juggling two route 66 guide books, map and the Garmin to provide the heads up to keep us on course. We've missed a few turns here and there but we found our way to Santa Fe .
Route 66 never fails to provide amazing landscapes and views of life in another time and today was no exception.
Santa Fe
It's been at least 25 years since we were last in Santa Fe and to say that it has changed would be a huge understatement.  Al ot of upscale stores with ritzy stuff that we didn't even know we needed.
After checking in to La Palomas  and grabbing a quick nap we went out for a forgettable dinner at a restaurant within walking distance of our room.  Afterwards we strolled through the old town plaza.
Along the way we found a wine tasting room that was still open so we sampled their wares and bought more than we needed. On the way back to our room we encountered a police officer who asked if we had seen any suspicious characters on the street. He apparently was looking for a purse snatcher and hoped we might have seen something.  I told him the only unusual person we had encountered had a flashlight and a badge.
NOTE: Never let me drink wine before encounters with law enforcement! Luckily he had a sense of humor.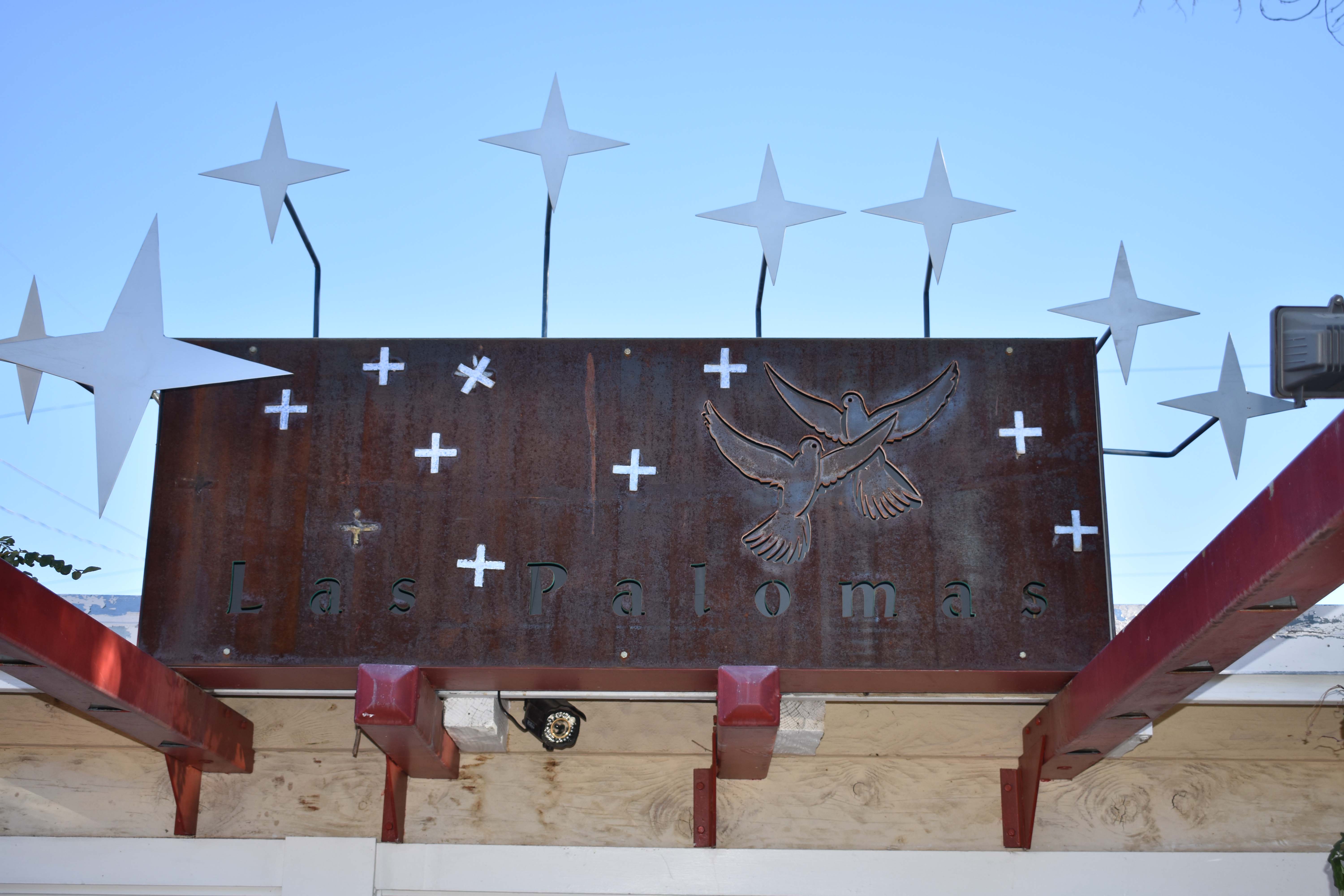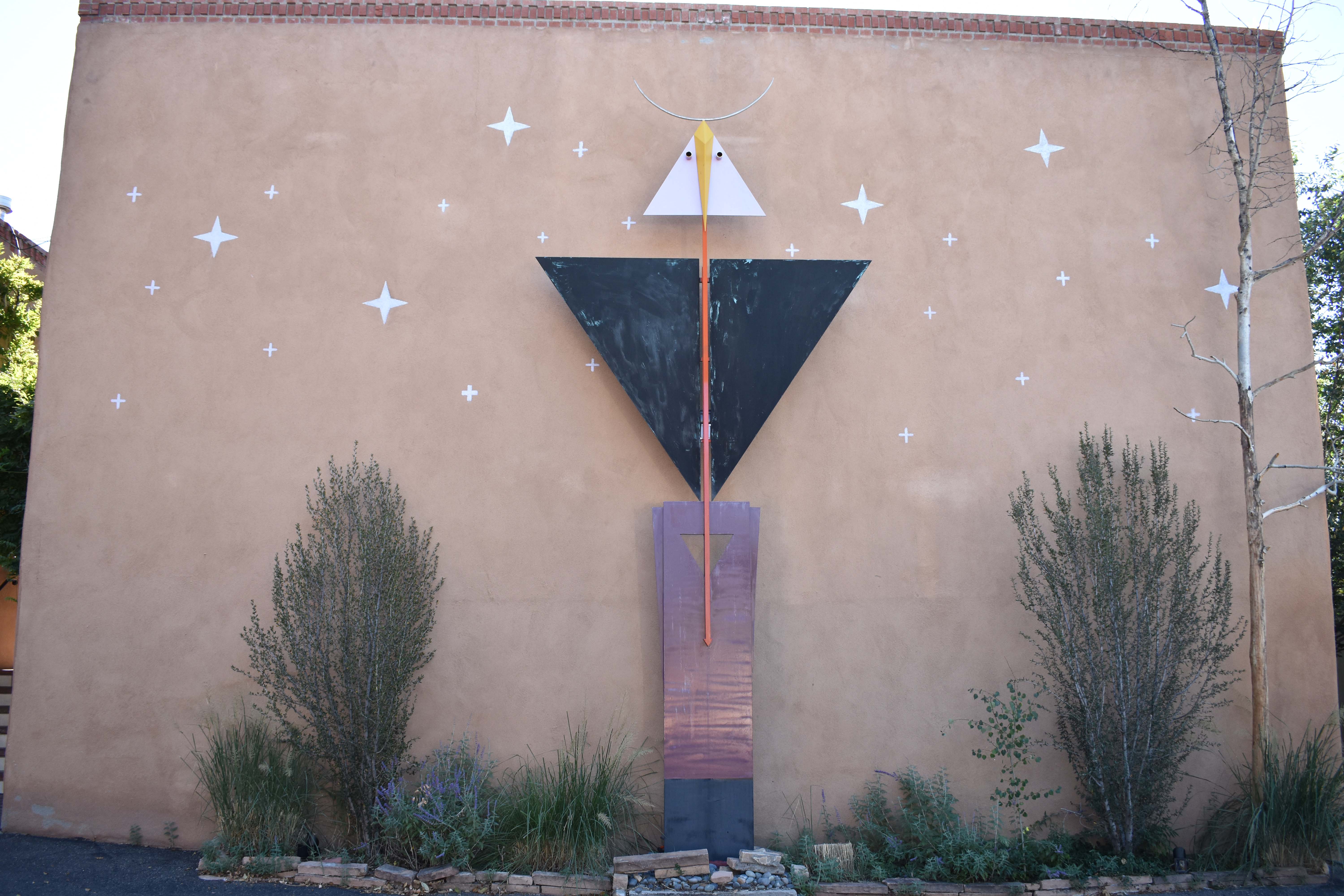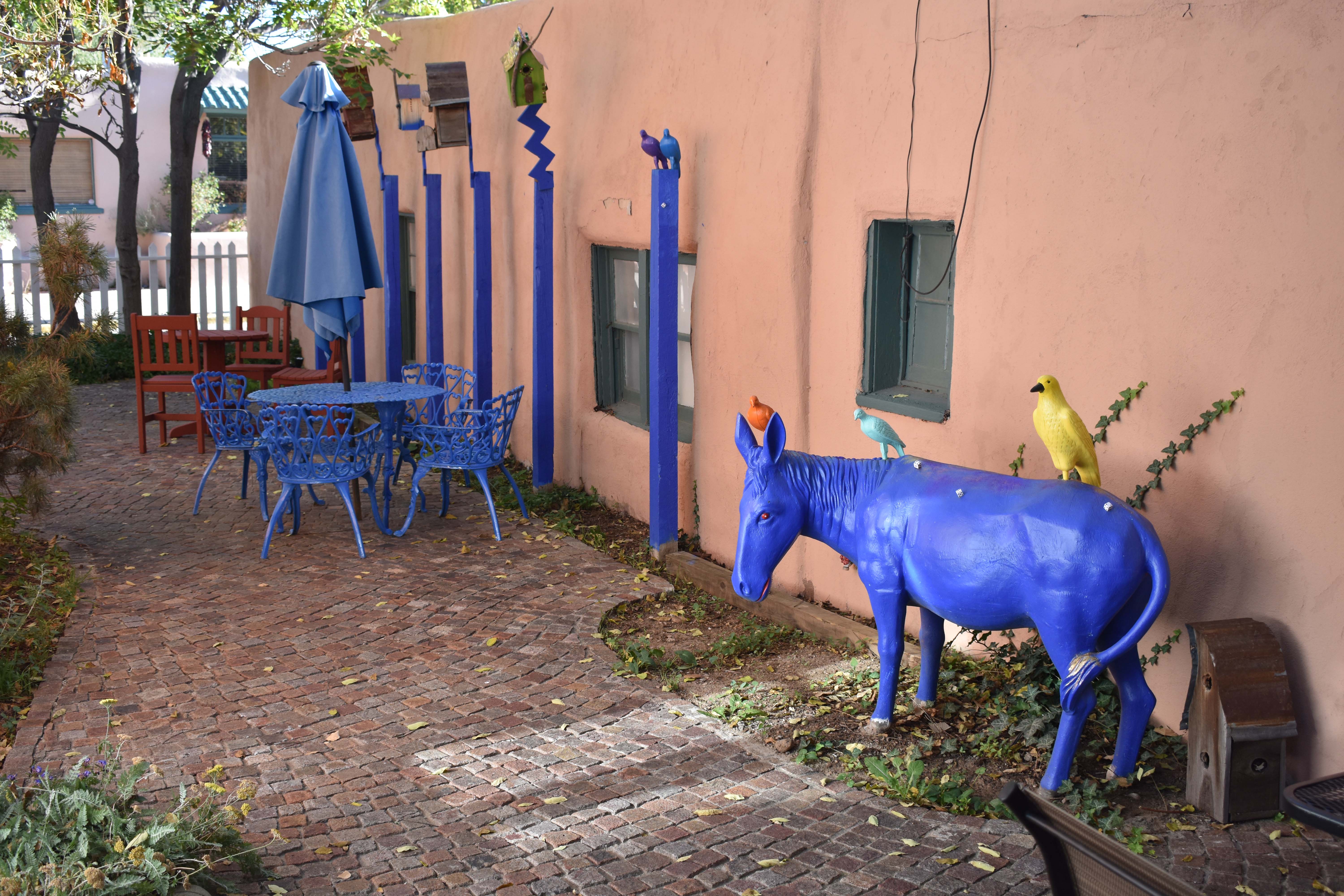 Day 5 Santa Fe – Tecumcari, Nm
Went to Meow Wolf, which is a multi level neon, dayglow, interactive art play space for all ages in a converted bowling alley in Santa Fe. What a hoot this place is!  Impossible to describe, you just have to experience it. I thought of it as a combination of Disneyland and Alice in Wonderland on LSD.
These amazing giant sculptures on the grounds of Meow Wolf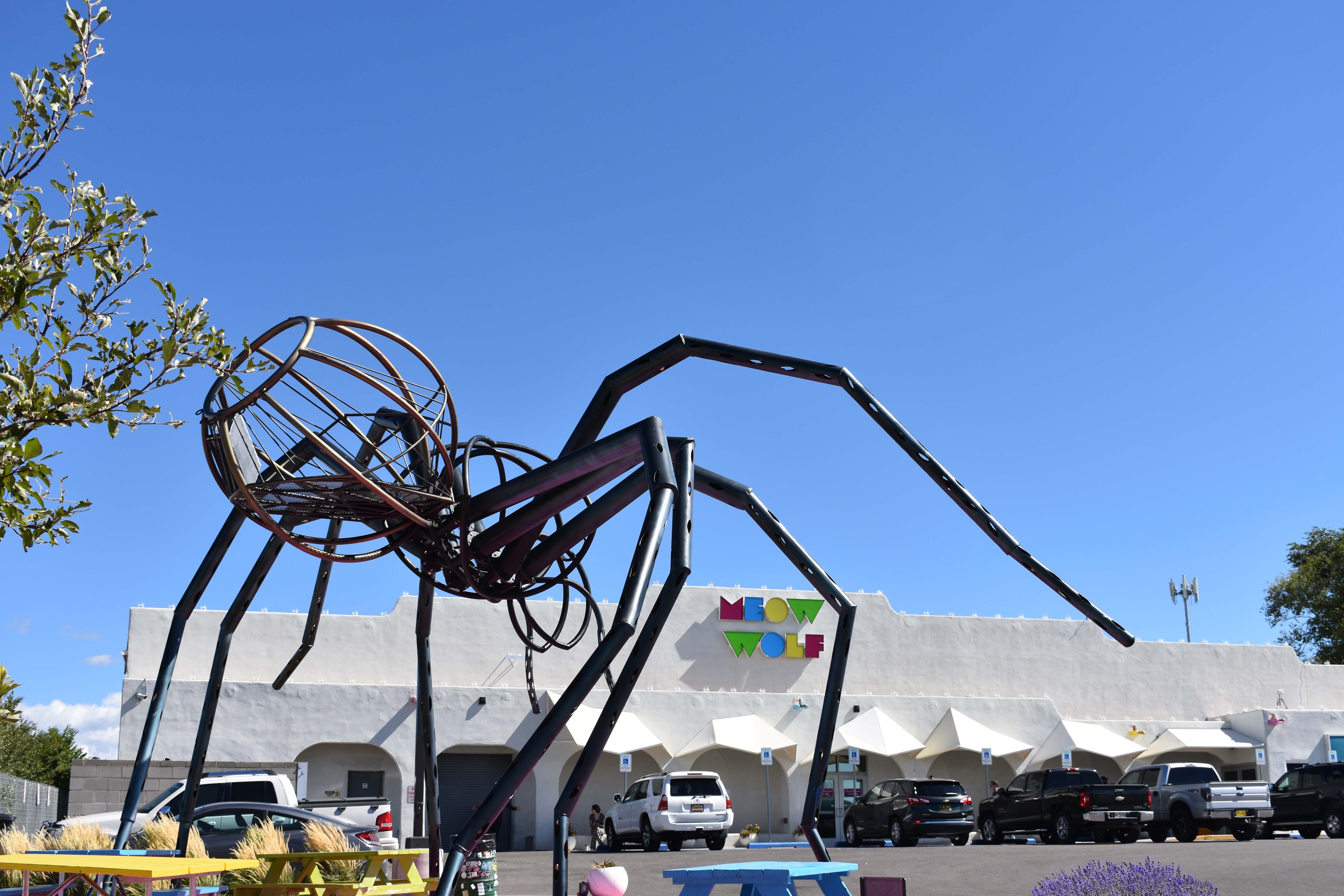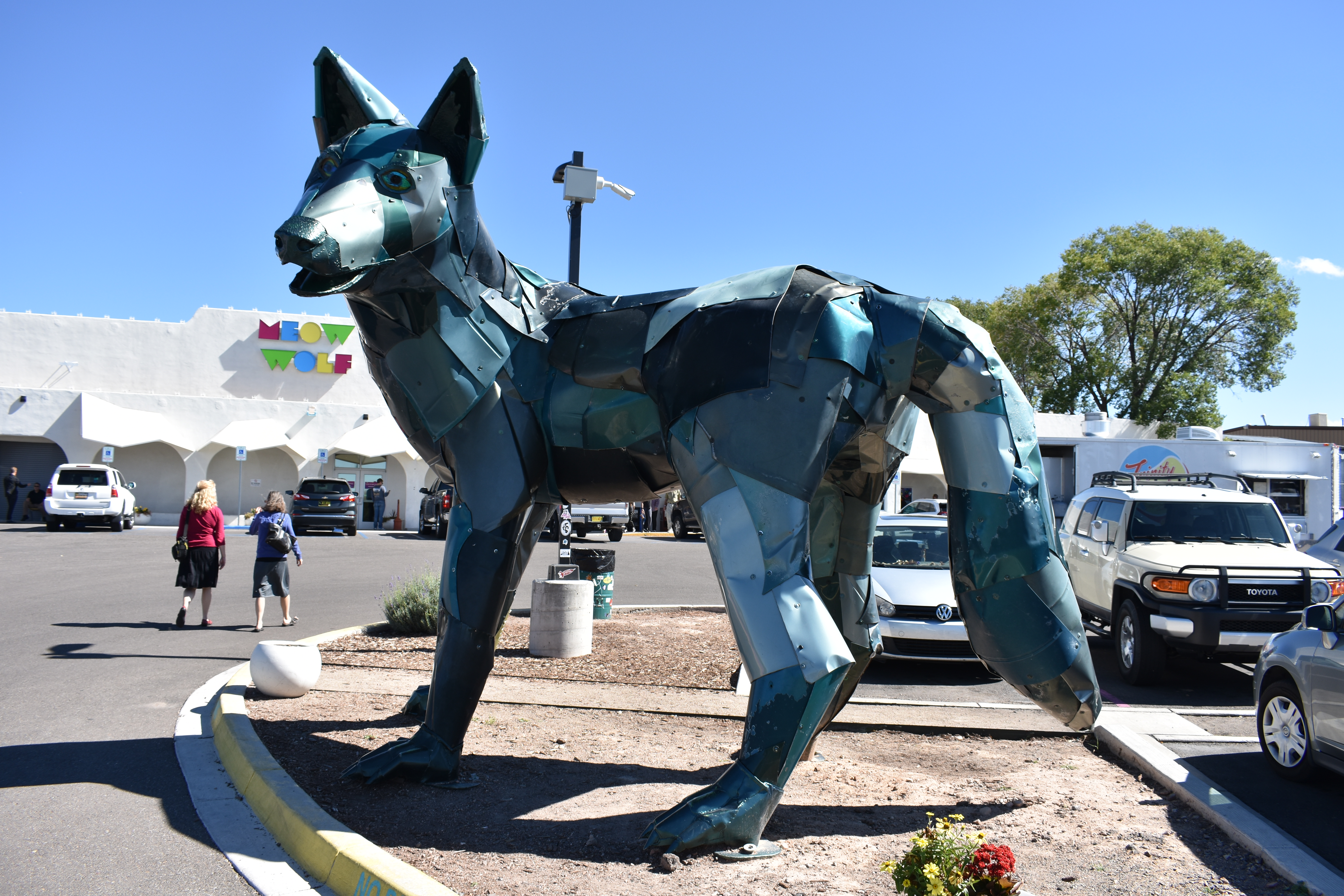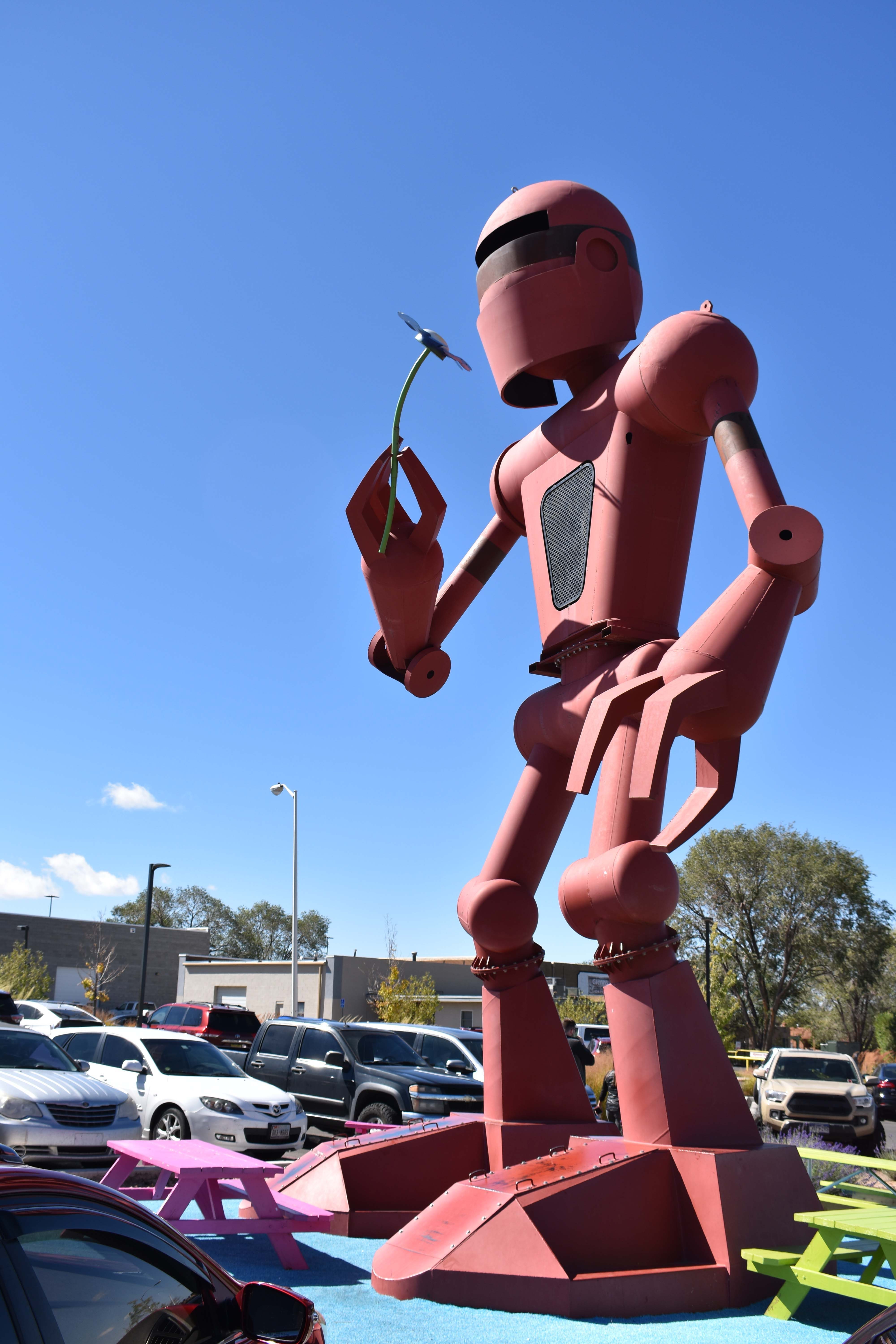 Left Meow Wolf on the famed Santa Fe Trail and spent numerous hours on the road where we rarely saw another car.
Santa Rosa, Nm
Santa Rosa appears to be another town that suffered being bypassed by the interstate highways that displaced Rt. 66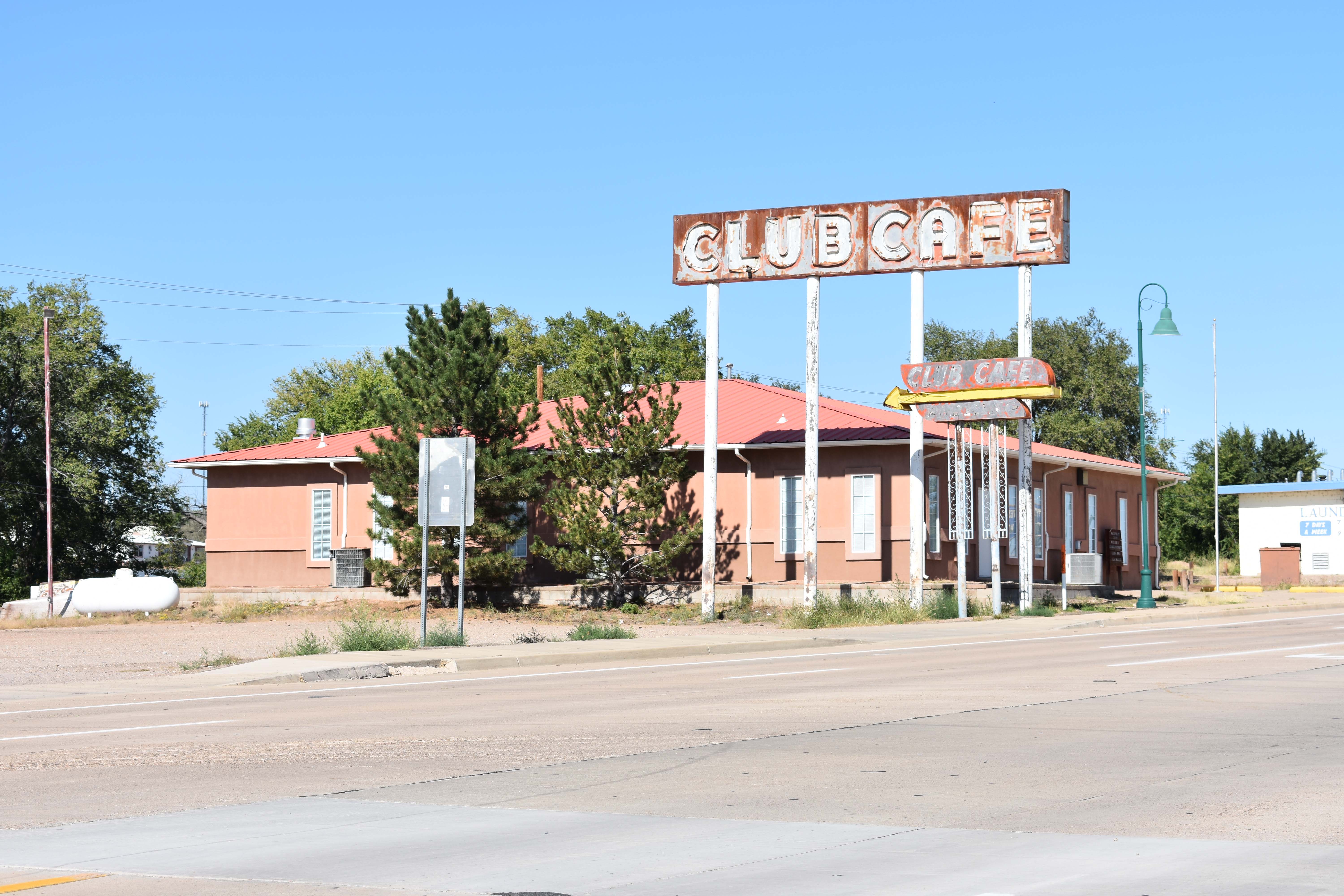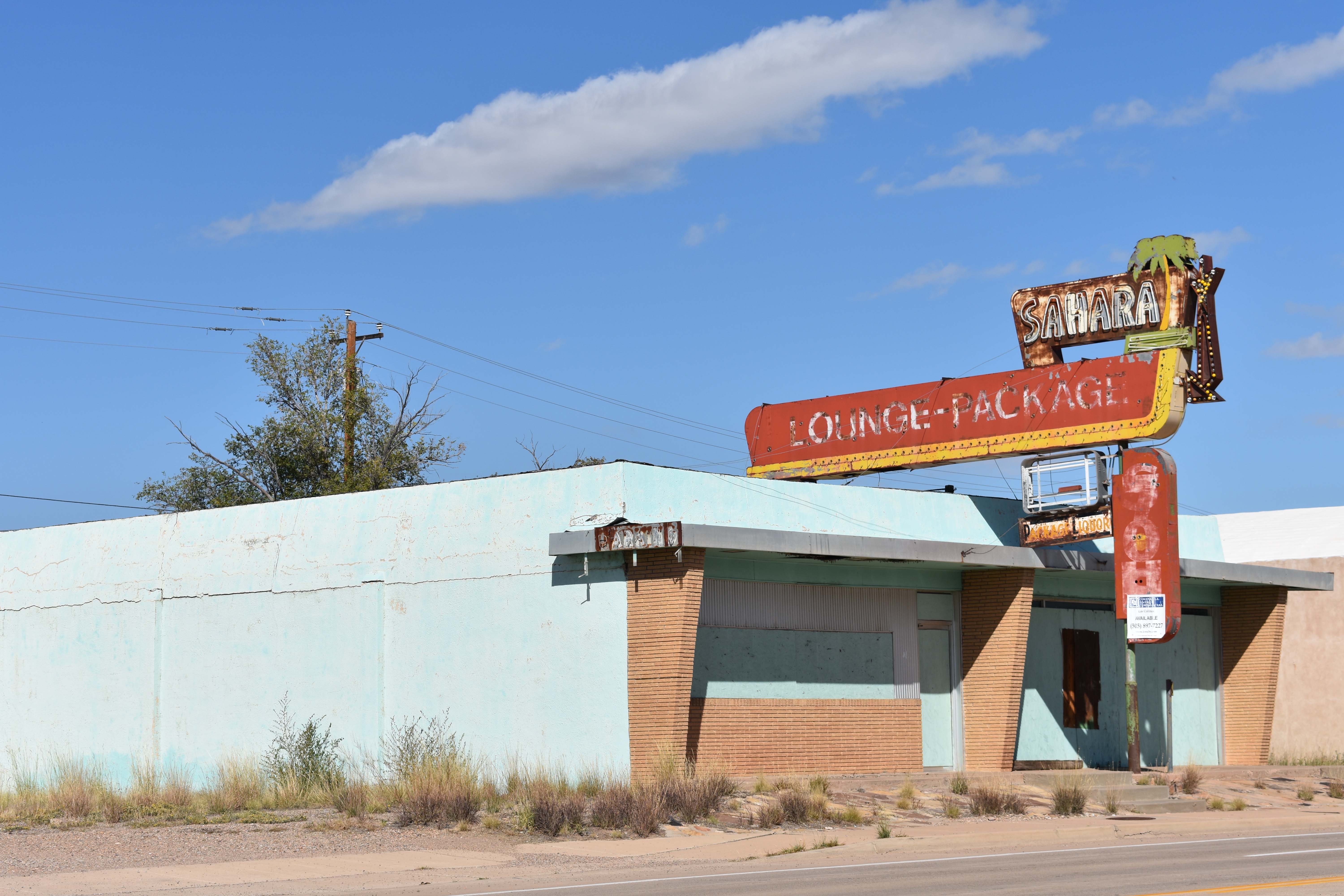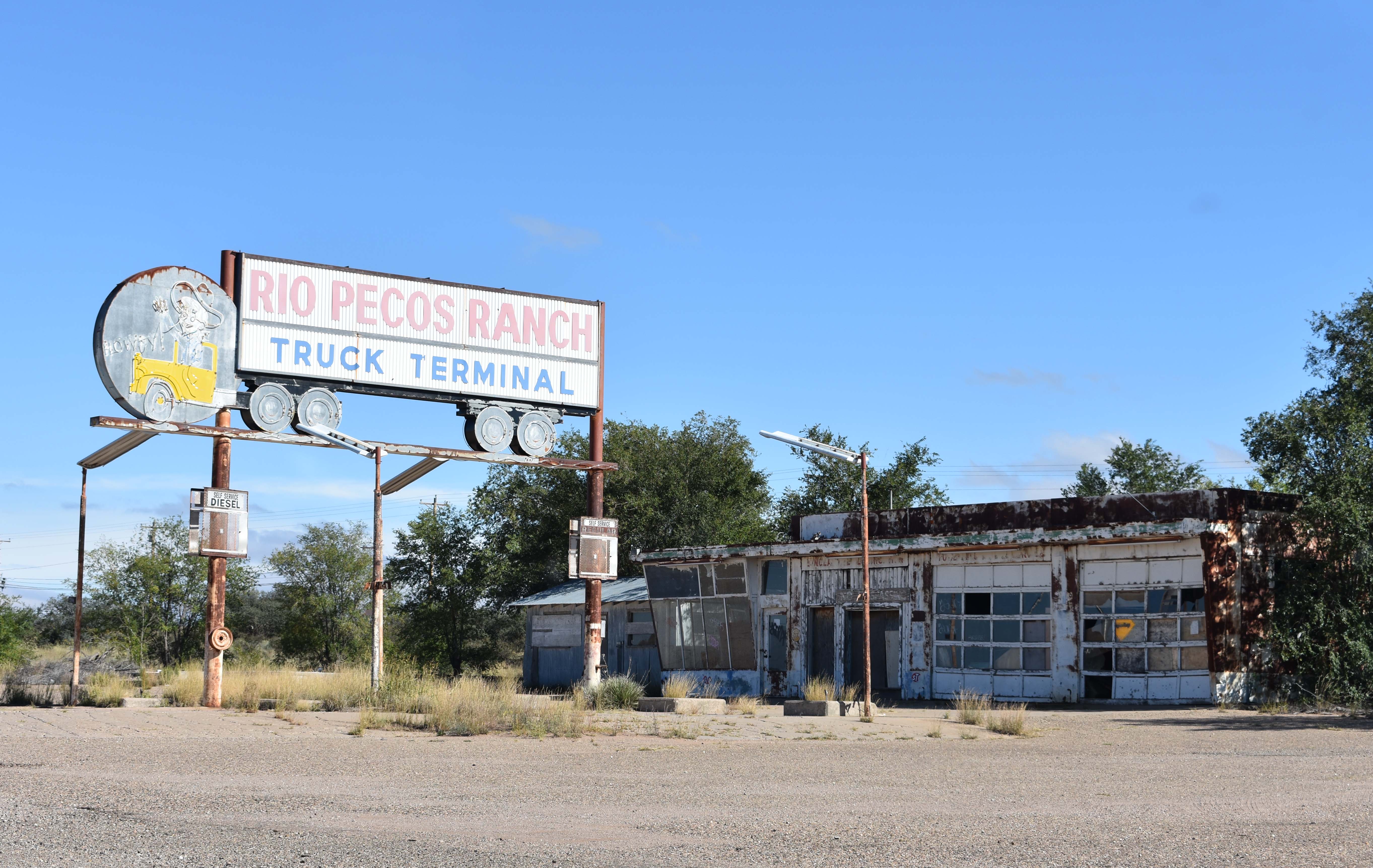 Bozo's Garage and Route 66 Auto Museum in Santa Rosa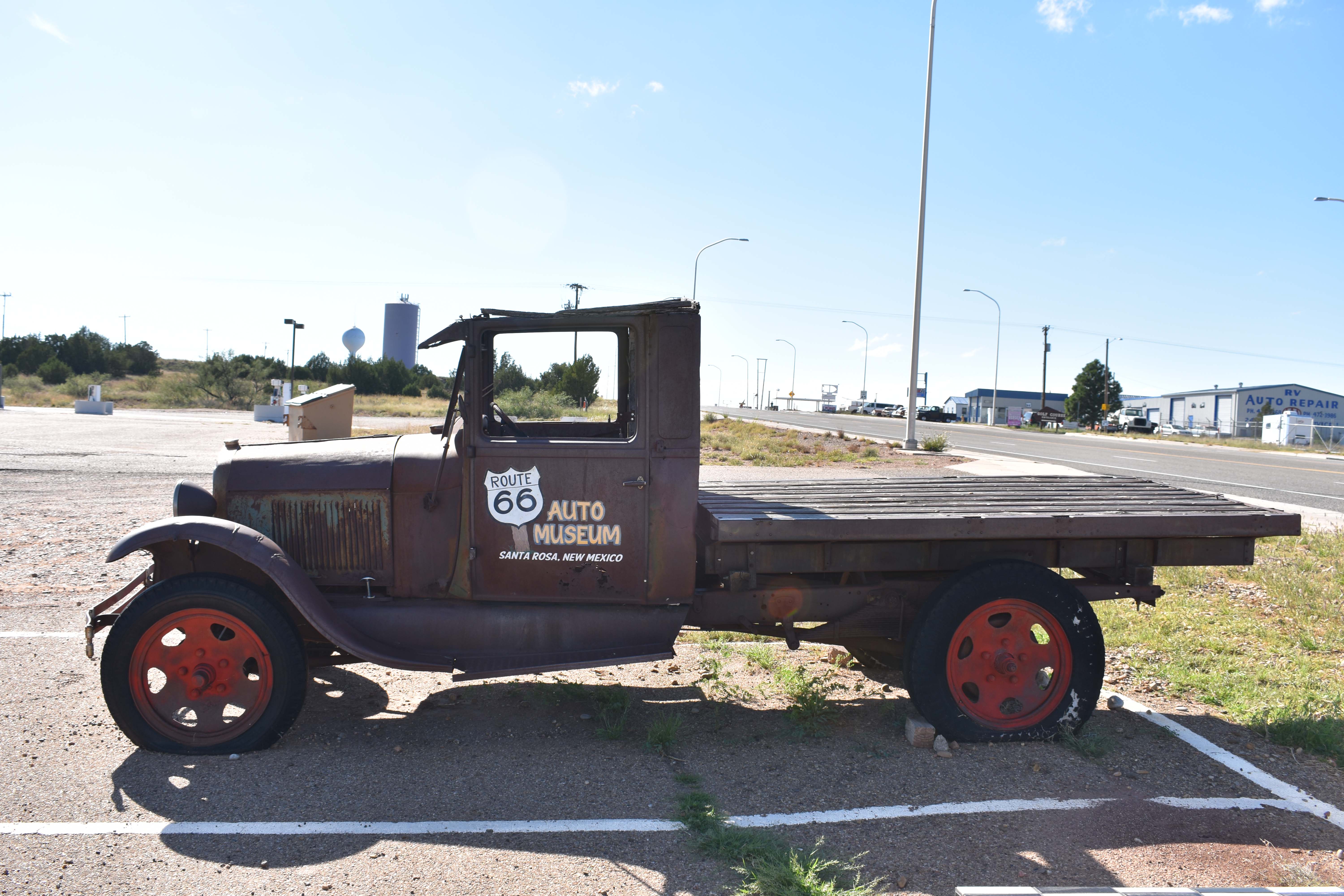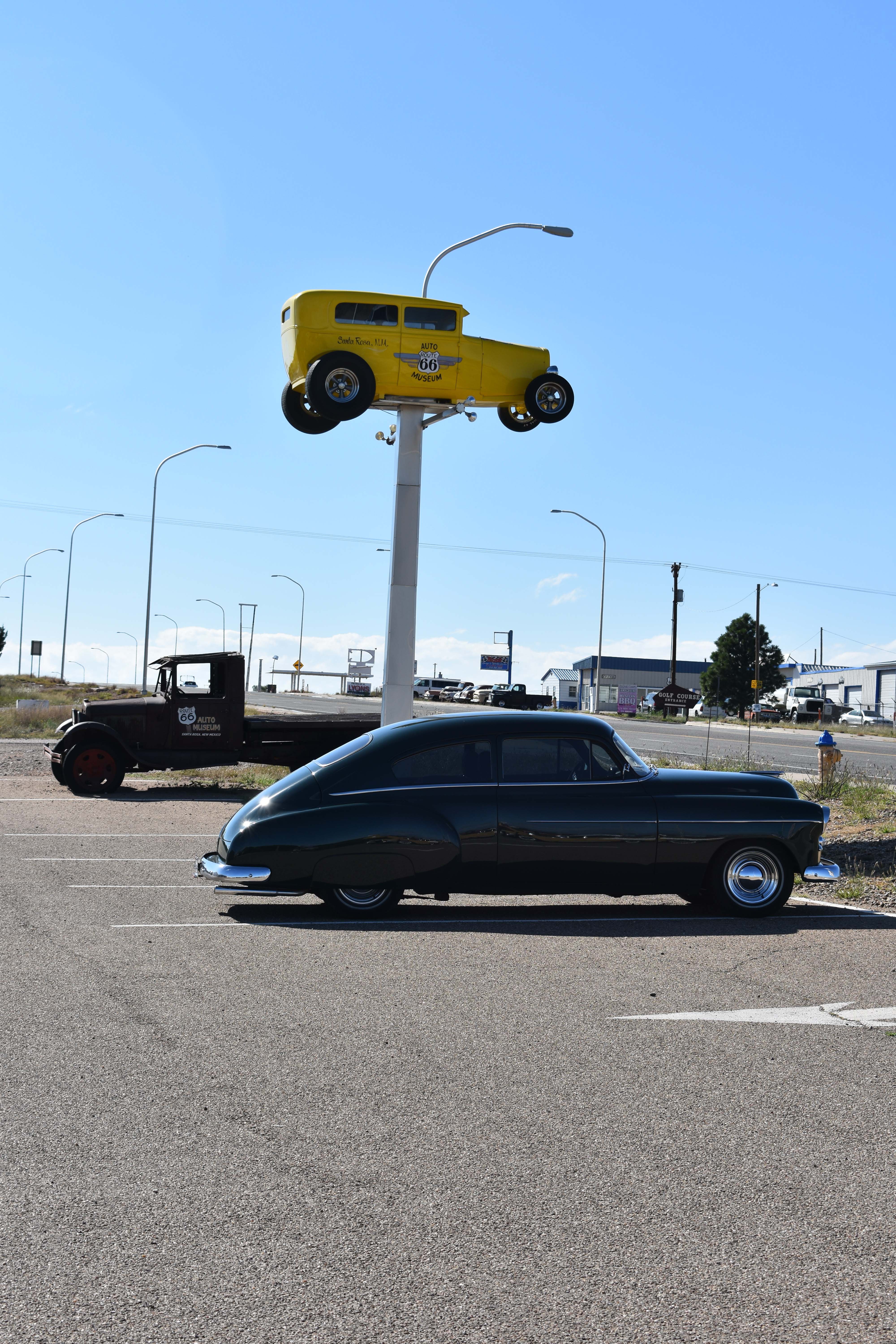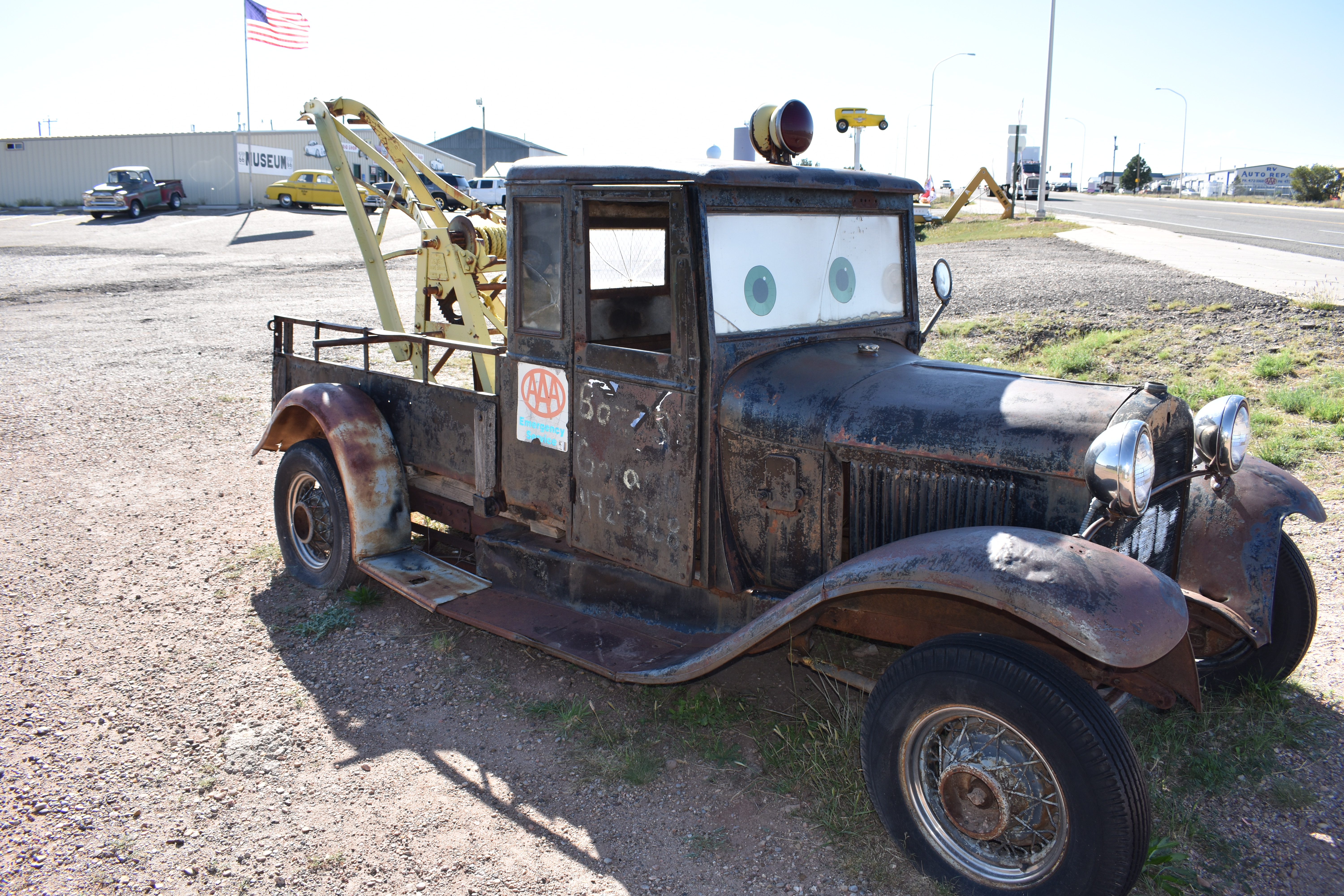 Museum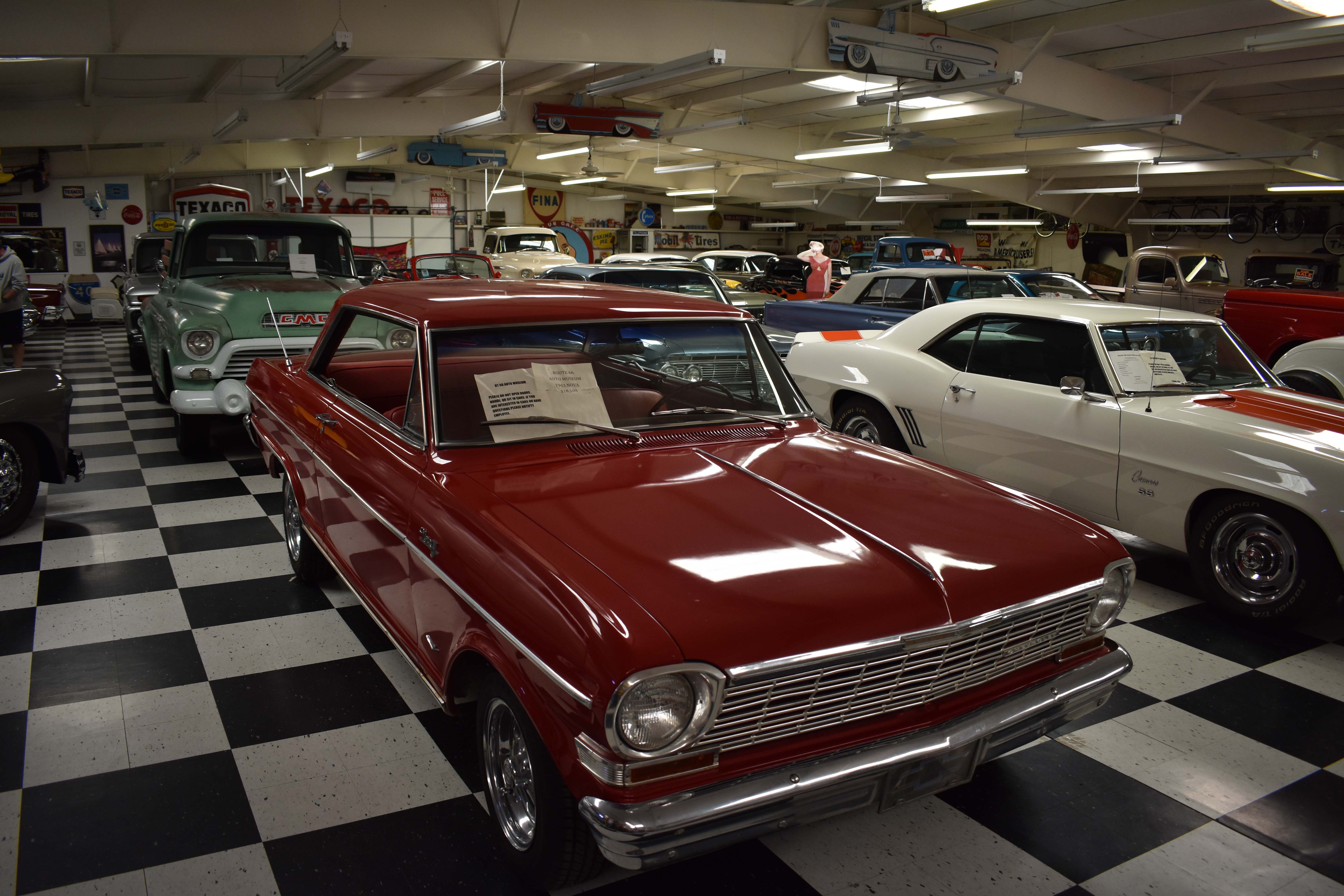 Said good bye to Bozo's Garage and Museum in Santa Rosa and headed East to the Cuervo turn off to get back on the last leg Route 66 for the 40 mile run in to Tucumcari, Nm.
This late in my life I should know  that anytime the name Cuervo comes up there is going to be trouble …….and there was.  As soon as we took the Cuervo exit there was a cattle grate and the car immediately stopped running when we rumbled across it.  This isn't something we really wanted to deal with as sunset was approaching, nobody else was getting off of Rt 40 there and it was cold.  Guess it could have been raining or something worse but the impending darkness and cold were enough.  We pushed the car to the side of the road and I began troubleshooting the problem. There was weak spark at the plugs and it appeared to be the HEI ignition coil was blown.
So we called AAA and got an operator in Portland, Maine and had to go through an exhaustive description of where we were, what had happened and that we needed a tow to the D&B garage in Tucumcari.  He said OK I'll contact the nearest tow service and have them call you.
While we were waiting I started thinking about all of the vibration we endured crossing the cattle grate and decided to try hot wiring the distributor just in case there was a flakey connection from the fuse to the distributor.
Just as I getting ready to test it the phone rang.  Kathy picked it up and the local tow dispatcher told her they were sending a winch.  I could here Kathy saying wrench…. wrench we don't need a wrench we need a tow.  The dispatcher then told her that the message they had gotten was that we had run over a gate at D&B auto in Tucumcari and had to be winched out of ditch.  So after telling her what really happened the dispatcher said she was glad we cleared that up because if we were at D&B auto and had run over their gate we must be stealing a car.
It was at that moment that I tested the hot wire fix and the car started…..Whew! We thanked the frustrated dispatcher and happily drove the last 40 miles to the famed Blue Swallow Motel in Tucumcari just s the sun was setting and  were serenaded by 50's rock coming from their outdoor speakers..
The motel, built in 1940,  has 14 units, each with its own garage and the rooms are restored in retro '50's style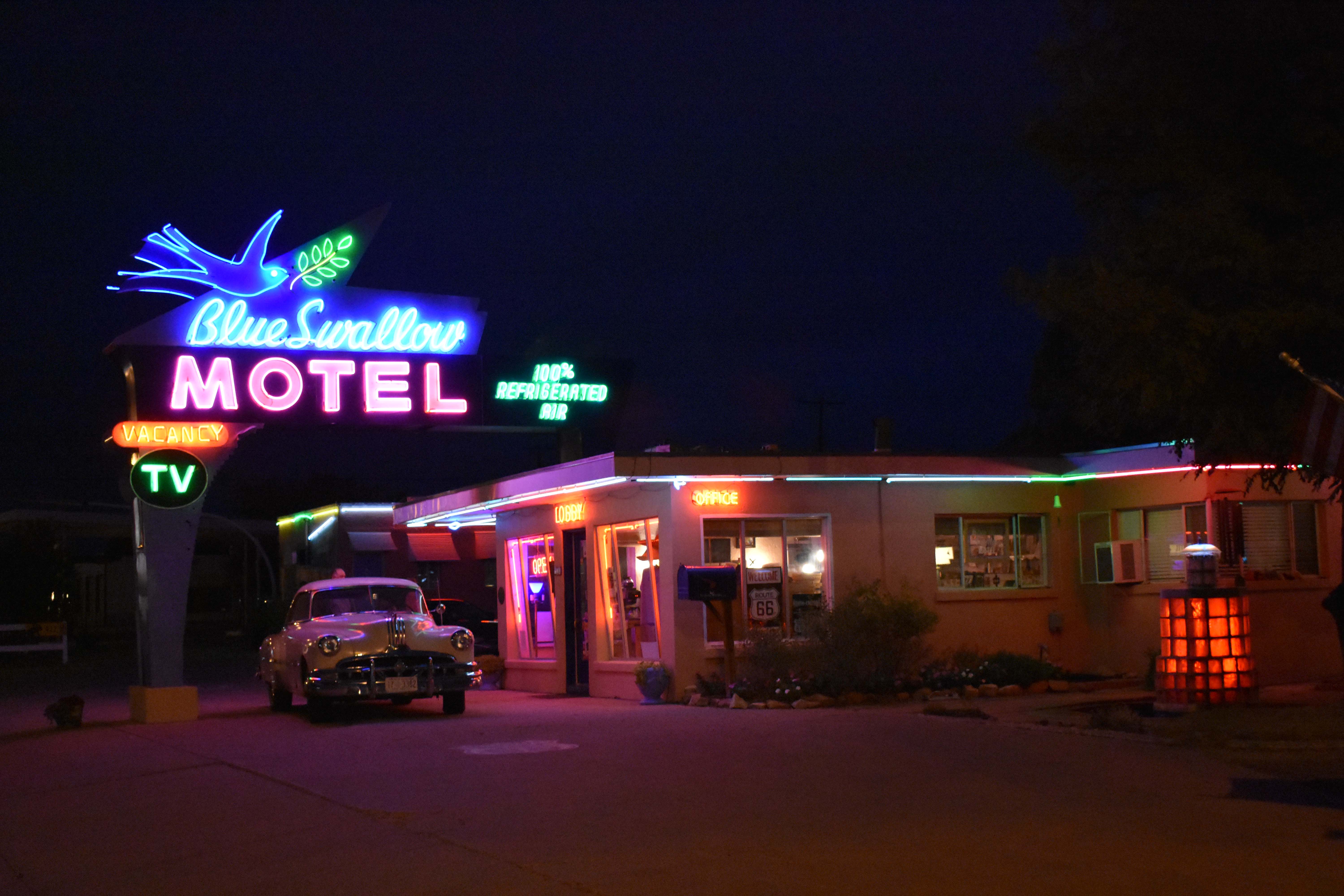 Every garage has a custom mural painted on the back wall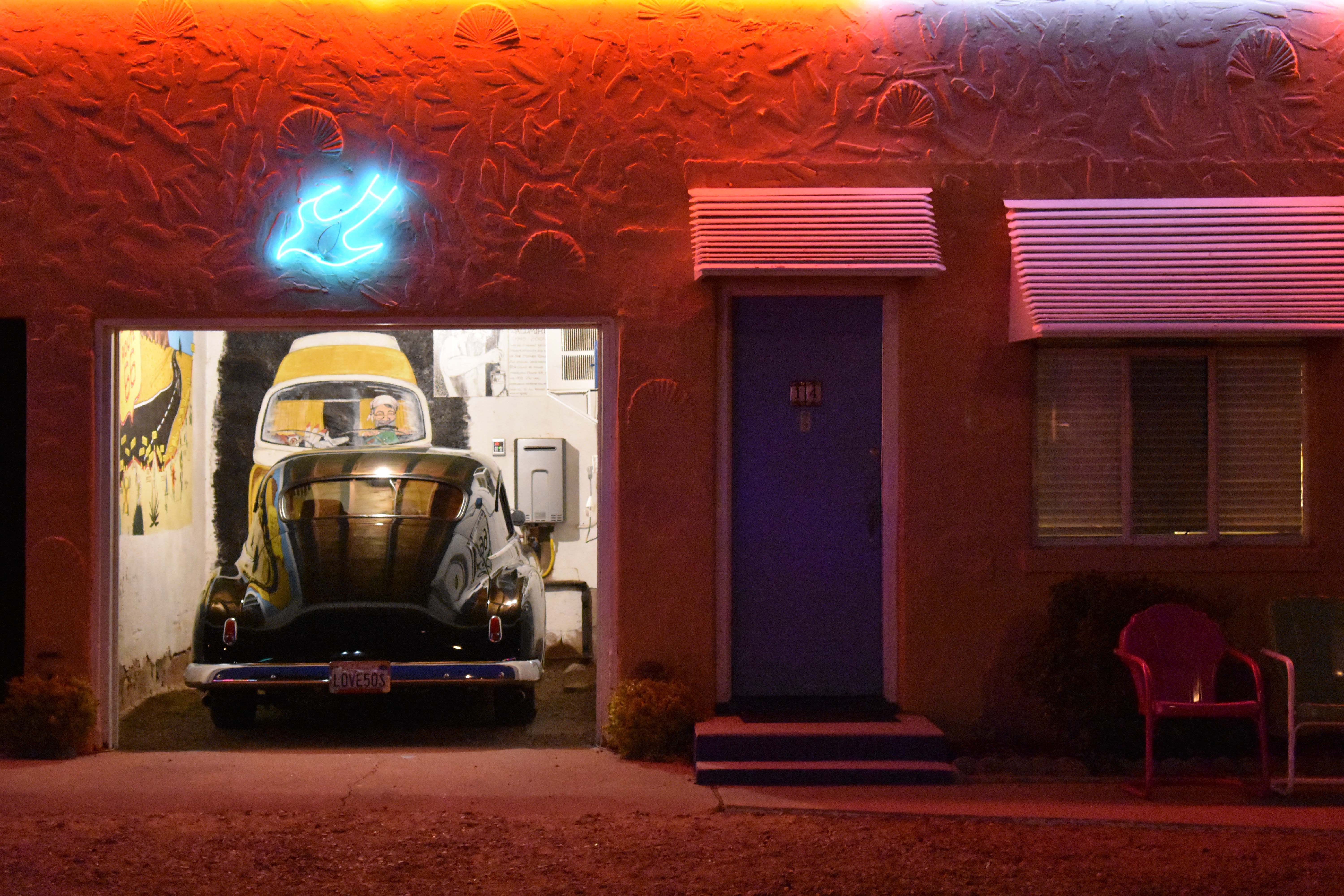 Had one of better meals we've had on this trip at Del's Restraurant in Tucumari and it was and it was only $37 for two.
After dinner we hung out with folks from the UK, Germany, Texas and Illinois around the roaring bonfire at the Blue Swallow. Great folks with great stories…all true vagabonds.
Another amazing day!