May 2013
Less than a month away from my ride to meet Kathy in New York on my Harley. Where will I go, where will I stay and what will I see is the mystery and the beauty of this adventure.
My plan is to ride across northern Arizona, New Mexico, Texas and Oklahoma before turning south towards Florida, then up the eastern seaboard to New York to meet Kathy on July 9th for 8 days of tourista in NYC.
Plan B is to cross the Southwestern states on the most southern, arid, boring and hot route via Hwy 10.
June 2013
Tornados have ripped through Oklahoma and left a wide path of destruction so it looks like Plan B has just become Plan A. The likelihood of getting caught up in a tornado is pretty slim but Kathy would be on the edge worrying about me so it's better to play it safe and become one with the cactus.
THE ROUTE
All of the last minute tasks came together just in time to get me on the road at 11:00 this morning. Trip jitters aside I headed south on Hwy 101 from SLO and went over San Marcos Pass and descended in to Santa Barbara. Had lunch in Summerland then continued south on Hwy 101 thru the San Fernando Valley to the 405 freeway then south to overnight at Julie Scrivner's house in La Palma in Southern California.
Stopping to see Julie and her big brother Jim, who I've known since junior high school, is a must before hitting the road. The stories of the mischief that Jim, Pat Daugherty and I got into are endless and it's a miracle we never got caught.
Jim is a lifetime biker and led a rough life after being blown to shreds in Vietnam. Eleven years ago he cleaned up his act, with the exception of an affinity for gin, and was doing okay until he suffered a stroke 1 1/2 years ago. He's battling his way back and becoming the Jim I knew so many years ago.
He is really lucky to have Julie watching over him and giving the doctors hell on a regular basis. She's a retired Captain from the L.A.P.D. and doesn't have any problem putting pressure on the medical community to get what's best for him. She's a sweetheart and loves her brother dearly in spite of all of his missteps in life.
This is a trip I  wish he could be on and really hope that someday we will get a chance to hit the road together.  Tomorrow is when this adventure really begins as I start into the first of many days crossing the deserts of the southwest.
Jim Scrivner in Orange County before hitting the road
If anyone can overcome a stroke and ride again it will be him.
Said goodbye to Jim and Julie this morning and headed South on Hwy 5 towards San Diego. Traveling down the coast to San Diego is a venture down memory lane: at 18, going to Tijuana to party in my lowered-to-the-ground '50 Chevy fastback, heading down to Ensenada in my '58 VW hippie bus after 'Nam, the infamous "Apartment Bldg." in Long Beach (party central), my first field engineer job in Irvine, night body surfing at the wedge in Newport Beach, sailing out of Balboa with my cousin, my marriage to Mary and so much more.
Weather along the coast was classic SoCal until I turned east on Hwy 8 out of San Diego. I crossed the range between the coast and the Imperial Valley at 4000' where the landscape became more and more barren as the temperature steadily increased. By the time I reached the valley floor, the temp was up to 104º and climbing.
Since it's my first day in the desert, I decided to call it quits when I reached El Centro, where I found a Clarion Inn with everything a typical biker would want: a bar, Denny's, 7-11 gas station, air conditioned room AND a pool–all in one!
Don't have to worry about bugs out here. The heat slowly but steadily kills everything except mean spirited people, snakes, scorpions and tarantulas. Riding in the desert when it's over 100 degrees it's like riding into a hair dryer.  There is no wind chill factor and you just have to suck it up.
Crack of dawn it's off to Tucson.
 June 14th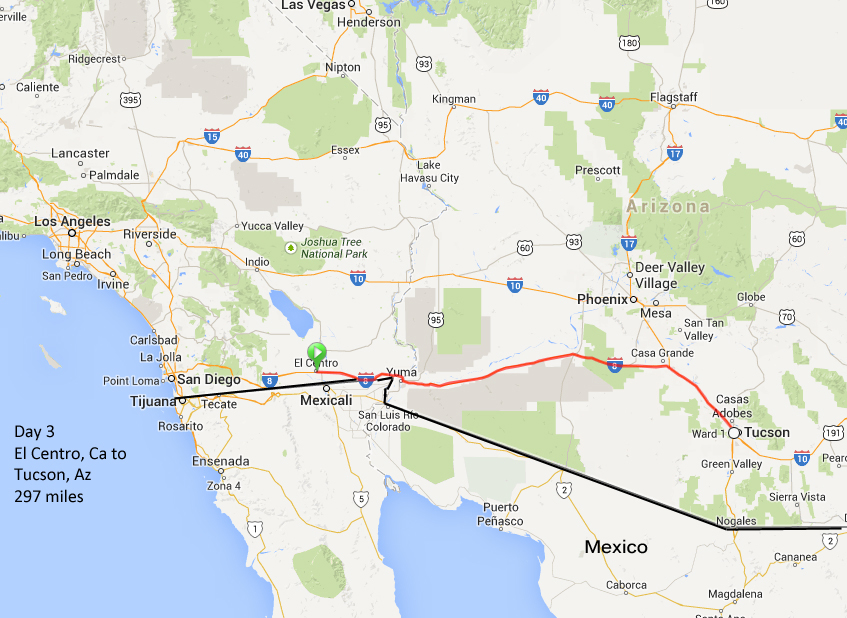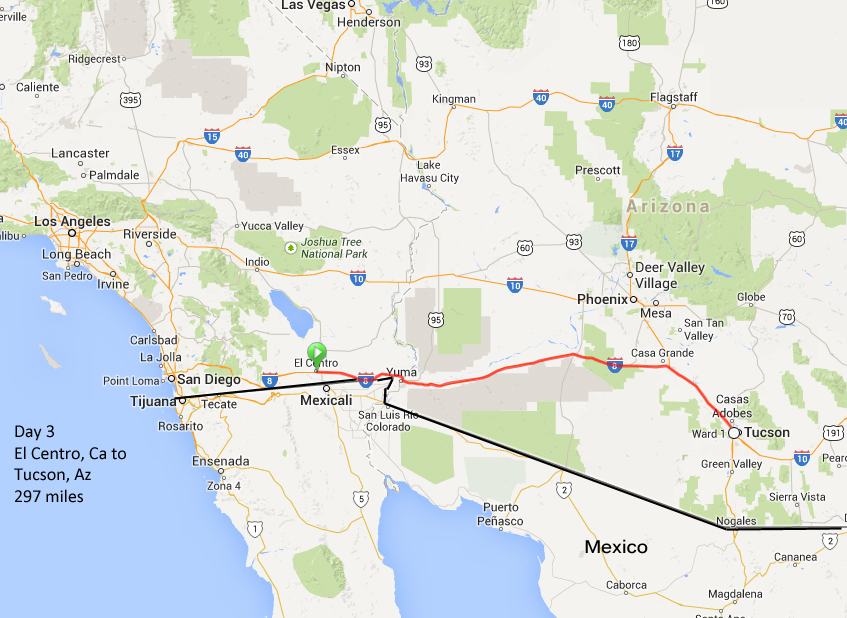 Played it smart and hit Hwy 8 east at 6:00 a.m. to beat the heat. The sun was just coming up and the desert was somewhat picturesque (I'm not a desert lover)  with very few cars on the road at that hour.
30 miles out of El Centro is Yuma, a town where my parents had to drive to from Long Beach after I'd run away from home at the age of 13. I begged the cops to keep me in jail, send me to a foster home or put me in an orphanage but nooooooo they had to return me to captivity and misery. I It was a long drive home.
One thing I've come to realize is that you could take a dozen photos of the desert and never see it change. It's the same vistas mile after mile.
Stopped for gas in Gila Bend around 10:00 am, 175 miles from where I started, and took a break before heading on to Tucson. Gila Bend is not much of a town but its claim to fame is its location at the intersection of AZ Hwy 85 and Interstate 8 and its proximity to the 90 degree bend in the Gila River. Merged on to Interstate Hwy 10 east at Casa Grande and pushed on towards Tucson.
Spotted the Harley dealership as I came in to Tucson and couldn't get there fast enough to escape the triple digit heat that was driving me to the edge. After over staying my welcome I  left the dealership with a vague idea of where the Doubletree Hotel was and got fairly close before losing my ability to reason in the heat and had to call them for directions.  After repeatedly giving me instructions, I finally got that they were only 1/2 a mile away. Did I mention I don't do well in the heat?
Little known fact to me: Tucson is the 2nd largest city in Arizona.
Tomorrow I head out at the crack of dawn for Las Cruses, NM.
 June 15th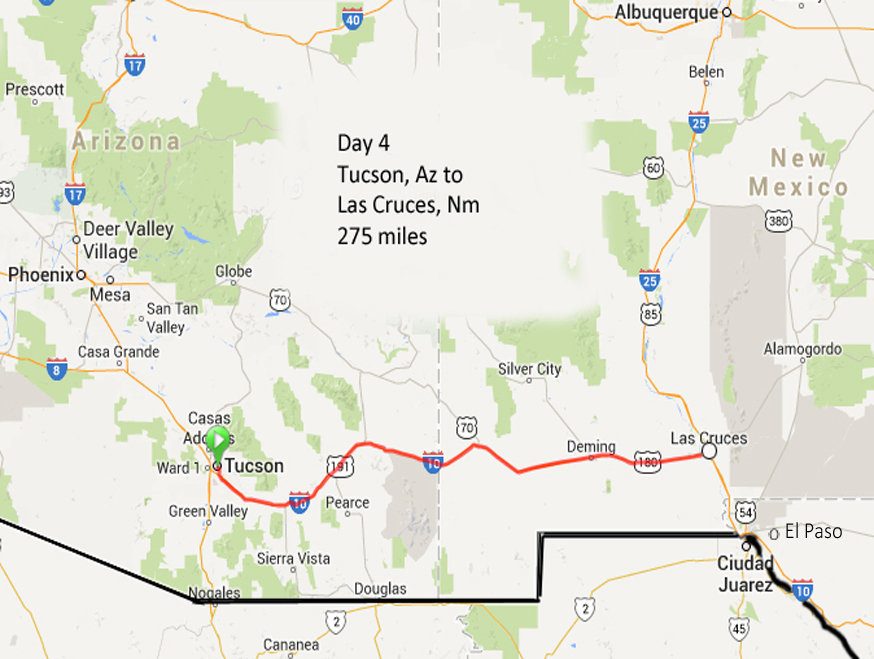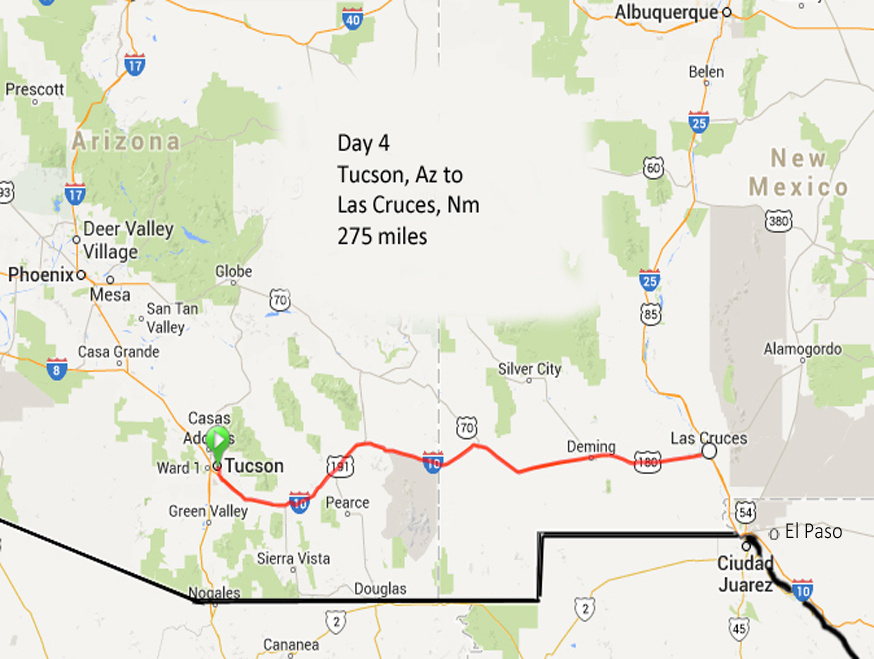 Left Tucson at the crack of dawn headed for Las Cruces, New Mexico. Anyone that knows me must be amazed that I could rise before 8 am…well, so am I. In fact I was so wide awake that I didn't even realize that the strap holding my leather jacket on the back of the bags broke and my leather jacket was lost somewhere on the streets of  Tucson. Can't imagine anyone wearing it around Tucson this time of year, but whoever found it may get a few bucks at a second hand store. Their luck, my loss.
One of the things different about New Mexico highways for Arizona and Californina is the amazing number of billboards. Aside from the never ending billboards about "The Thing," were the ones for the "Continental Divide Trading post."
The continental divide trading post was just too good to pass up.
It was at the Continental Divide Trading Post that I found Dead Eye Dick's petrified remains behind the wheel with a bottle of booze in his hand. Irrefutable proof that drinking and driving are problematic. Once in the trading post, I discovered that the real continental divide was 5 miles farther down the road. I should have known…damn marketing people! The air conditioning was great so I thought I'd check it out. What a hoot! Coonskin hats, fake guns, knives, tomahawks, bows, arrows, serapes, authentic southwest Indian goods made in Mexico, as well as every trinket a bus load of seniors could ever want for their grandchildren.
The temperature never got out of the 90's today, which was a relief after 3 days of 100+ degree heat. I mistakenly tried running on the treadmill when I got to the motel in Las Cruces but only lasted 15 minutes in the poorly air conditioned exercise room. Well, there's always tomorrow. Speaking of tomorrow, I'll be crossing into Texas …Yipppiieee I eh.
 June 16th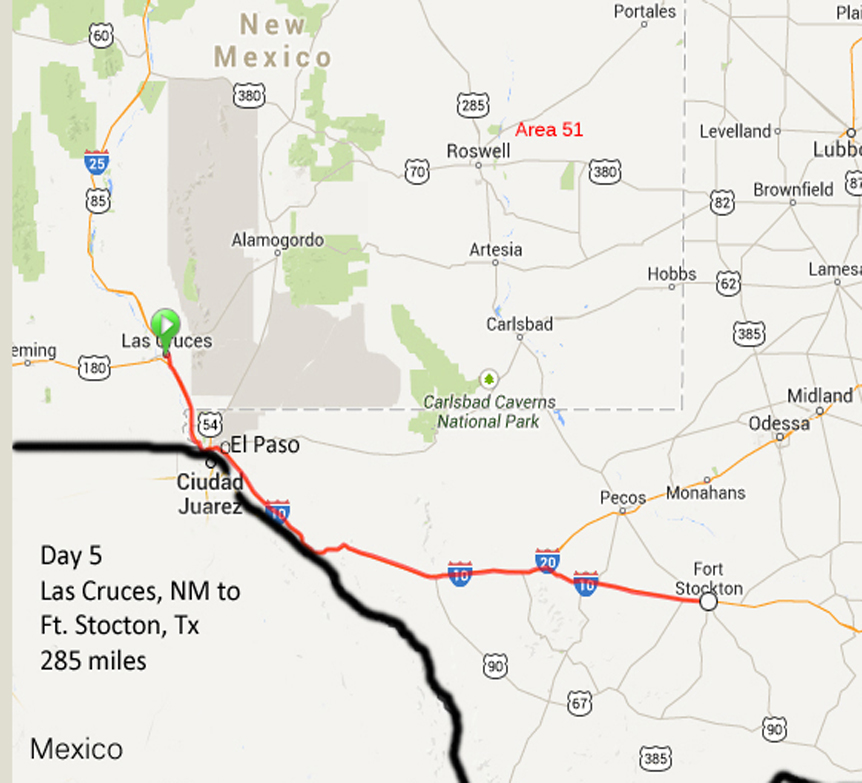 Woke up late and discovered my phone alarm hadn't gone off. This led to the discovery that after setting the alarm last night I had later turned my phone off to save energy. Brilliant!
Got a message from Kathy wanting to know why I wasn't on the road yet. There's a GPS tracking device on the bike so Kathy can go online and see where I am at any time. This makes sleeping in and side trips to Hooters a bit of a challenge …………………….
Finally dragged myself out on to the road and continued on Interstate 10 to the Harley dealership in El Paso which ironically didn't open until 10 am. So IF I'd gotten up on time and hit the road at 8 am I'd have been stuck sitting around El Paso waiting for the dealership to open. Funny how things work out that way.
With the temperature back to 100+ I couldn't wait to get my hands on a Harley hydration vest which is made of a quilted material that absorbs water. You just soak it in a sink and put it on under a shirt to keep your torso cool on the road. Since HD translates into Hundred Dollars it was a shock to discover the vest was only $45.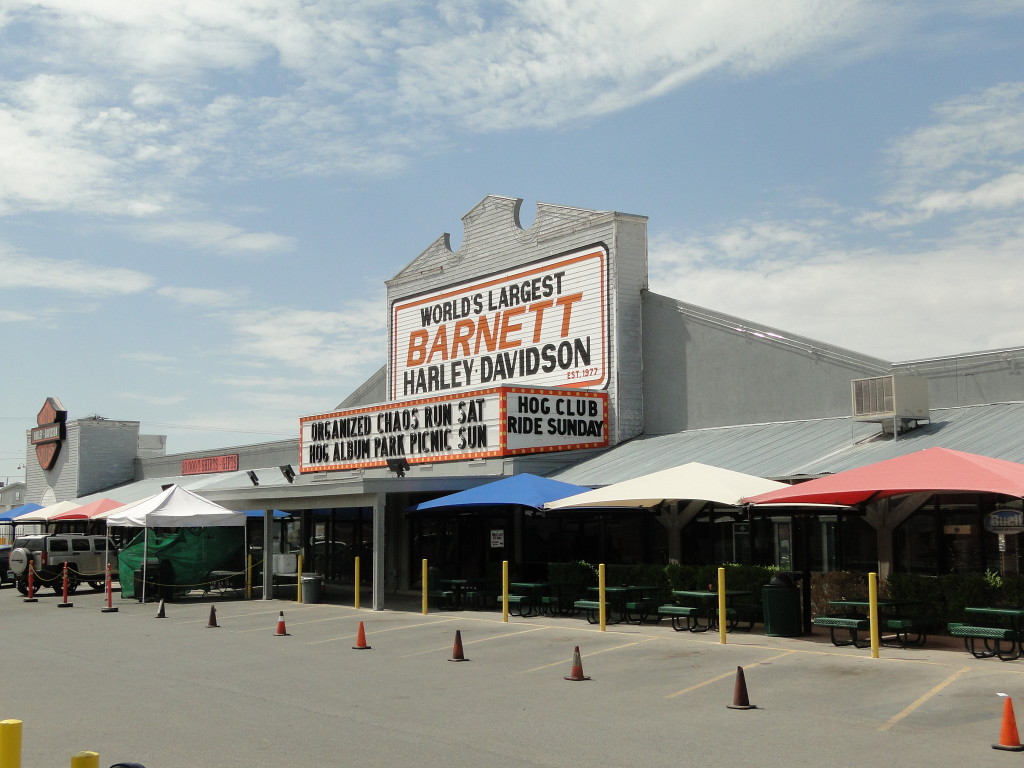 Reluctantly left the air conditioned dealership and got back on the highway. My new vest is working great! It keeps the torso nice and cool for about 100 miles at 103 degrees. The next stop I soaked the liner of my helmet and the vest….so so nice!
The landscape hasn't changed since I entered Yuma, AZ but what has changed is the speed limit. 80 mph on the interstate! The roadway temp is probably 110 but the  heat induced delirium helps.
Finished out the day in Ft. Stockton. Never heard of it? Neither had I, so I looked it up on Wikipedia.
Fort Stockton was garrisoned by companies of the 9th Cavalry, known as "Buffalo Soldiers" in July 1867. The 9th was one of the new regiments organized after the Civil War staffed with Black enlisted men. Surmounting obstacles of harsh living conditions, low pay, and racial prejudice, they gained a reputation for tenacity and bravery. Stationed continuously on the frontier during the years of Indian hostility, Black regiments played a major role in the settlement and development of America's western frontier.
Tomorrow should land me somewhere around Austin.
Left Ft. Stockton under partly cloudy skies and started in to the Rolling Hills of Texas with increasingly greener foliage. Decided to skip Austin and stay on Hwy 10. Pretty pleasant day overall with the temperature up to 93 degrees and increasing humidity. Momentarily thought about going to the Alamo and the river walk while passing thru San Antonio but opted out for a pool and air conditioning instead. Called it a day in the little town of Sequin east of San Antonio.
It's now the monsoon season so it won't be long before I start hitting showers, rain and thunderstorms. So far things are going my way.
Tomorrow will be a day off for R&R.
 June 18th Sequin, Tx

Took the day off after 6 days in the saddle. Slept in, worked on the bike, laid around the pool and contemplated the meaning of life.
Have yet to see two of the things Texas is famous for, longhorn steers and armadillos. Go figure. Speaking of armadillos, are they a possum with batmobile armor, cousin to the javalina (whatever that is), vermin or what?  Maybe they're related to "The Thing" in New Mexico……so so many questions.
Tomorrow I leave Texas, enter Louisiana, cross the Mississippi river and stop near Lake Charles, La.
Here comes the humidity, bugs and other strange creatures.
Finally I'm out of Texas and stopped for the night in Sulfur, Loooziana. Great day on the road with partly clouded skies and ever increasing humidity. The ever increasing humidity has become a theme but it's cooler on the bike than the dry heat of the arid wastelands of Arizona, New Mexico and west Texas.
Had a big smile on my face when I saw the Welcome to Louisiana sign after what seemed like an endless journey across Texas. Although, I must admit, that after San Antonio it was a much nicer ride.
For some reason I had it in my head that I'd cross the Mississippi river today…..Really should pay closer attention to the maps.  Getting lost and finding your way is part of the adventure, so no GPS or SmartPhone for me, It's navigation the old-fashioned way with maps.
Tomorrow I really will cross the river on my way to Biloxi, MS. Haven't been in Biloxi Since the late 70's and am curious to see how much It's changed.
By sheer luck I arrived in Sulfur just after a downpour and didn't have to go through the suiting up in the rain gear thing. Sooner or later it will happen but today wasn't one of those.
Can't thank Kathy enough for letting me off the leash to pursue this once in a life time ride…Thanks, Babe!
Found this in Texas before I got to the Louisiana Border.
 June 20th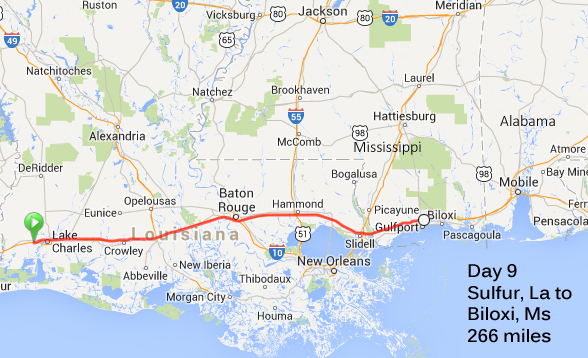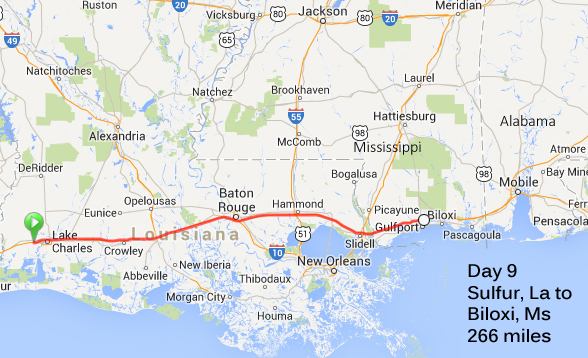 Left Sulfur this morning and continued my eastern migration on Hwy 10. Saw kudzu climbing in the trees and knew I was in the south. The land is flat and lush with trees and rice fields. East of Layfayette, I crossed Lake Bigeux, which looks more like swamp land than a lake, for what seemed like 10 miles on a elevated highway. Kept waiting for The Swamp Thing or The Creature from the Dark Lagoon to emerge but no such luck. Crossed the mighty Mississippi River and detoured down to the levy in Baton Rouge and took a tour of the USS Kidd, a WWII destroyer. Took some pics of it and the floating river boat casinos. Exercised great restraint and didn't gamble my life away.
About 20 miles out of Baton Rouge a black cloud let loose and rain gear was pulled on at the side of the road. That lasted for about 15 miles but wasn't that big of deal so I pulled over and took the rain gear off. Fourteen miles short of Biloxi the innocent looking grey sky let loose with some of the hardest rain, lightning and thunder you could ever imagine. Visibility dropped to about 30 feet on the Interstate and luck came to my rescue as 2 miles later an exit appeared. Took me 15 minutes to stop shaking and dry out enough to take a picture at the gas station where I sought shelter. By then the rain had backed off to what would be a hard rain in California.
Sat out the storm for over an hour at a gas station before venturing back out on to the highway. What a day!
Tomorrow Florida
 June 21st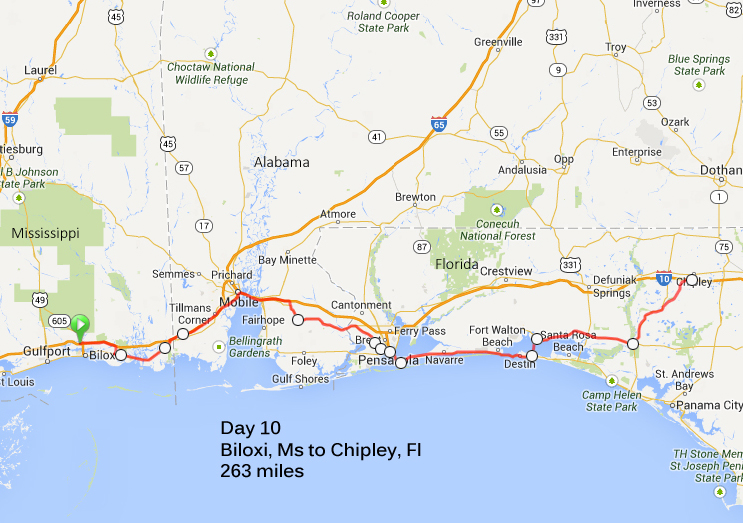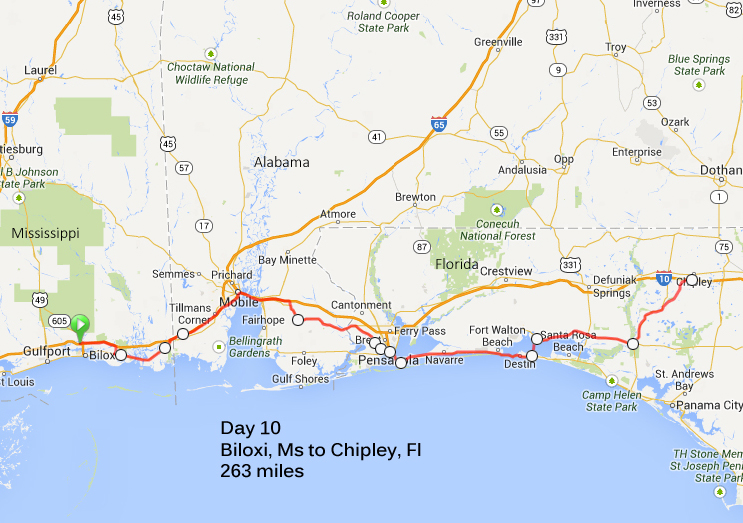 Went through downtown Biloxi on the Gulf Coast where there's been a lot of change since I was here in the late 70's. Two things that haven't changed are that both Mary Mahoney's restaurant and the home of Jefferson Davis, former president of the Confederacy, have survived. Mahoney's is known for its fabulous southern meals, which is why I remember it so well. Jefferson Davis didn't survive but his house did.  There's a message here and it's something about good versus evil.
 Be careful what you ask for! Been looking forward to getting off of Hwy 10 and hitting some of the smaller local highways. Great idea in theory but it didn't work so well in practice. The stretch of road from Biloxi to Mobile, AL, although scenic is slow with numerous traffic signals and a big drag when it's hot and muggy.
Reached Mobile, AL. and got on to 98e headed toward Pensacola, FL. Scenic, lightly populated area with speed limits that never get over 50 mph. Traffic through Pensacola was slow going but I thought there was good chance of things speeding up but that isn't how it played out. Hwy 98e led me thru a series of beautiful beach-side resort towns that I'd love to vacation in were it not for the Friday afternoon bumper-to-bumper traffic. By the time I reached Destin, I was hot, tired and frustrated so I turned north and took the mid-way bridge across Chocwhatchee Bay and picked up Hwy 20 east. Stopped for gas in the middle of nowhere and felt like I'd ridden into an episode of the Twilight Zone.  Dentistry appeared to be a dark art and the concept of driving anything that wasn't covered with mud and less than 20 years old hadn't caught on.  With dueling banjo's playing in my head, I continued east to Hwy 79 north and went back to Hwy 10. Pushed on east at a time when traffic was light, it wasn't too hot, windy or raining……..perfect! Stopped in Chipley and got a room at 7:30.
A long day with great country and beaches but not as much forward progress as I hoped for. Tomorrow may make it to Tampa.
Left Chipley under clear blue skies and headed east on Hwy 10 for 75 miles to Tallahassee, the capital of Florida, where I finally said goodbye to Hwy 10 and connected to the smaller Hwy 27. Traveled south for 125 miles on a lightly trafficked, gently rolling road interspersed with small towns to Perry. There I picked up Hwy 98 (Ponce de Leon Blvd) and continued south under broken skies thru rural countryside for 145 miles on the western side of the state within 50 miles of the gulf coast to North Weeki Wachee (I don't make this up). Turned east to connect with interstate Hwy 75, which is about 70 miles from Tampa, then had to hold up for an hour+ at a gas station while a late afternoon storm (monsoon) with the usual lightning and thunder show blew through.
Called my friend Bonnie, whose house I was staying at in Riverview in eastern Tampa, to let her know I was near and get directions to her house. Got into Tampa after sunset in light rains, which played havoc with my vision as the car lights reflected off of my rain beaded glasses, and finally found the turn off to Riverview.
I was so burned out that Bonnie had to meet me at the freeway exit to guide me to her house. I'd fought with a sore back all afternoon and was oh so glad to get off of the bike.
Finally a few days off to recover before hitting the road again.
Tomorrow……the beach and lounge chair:-)
 June 23 Tampa, FL
Bonnie took me to her favorite spot on the beach in St. Petersburg and loved it. Beverage service and umbrella's, white sands, and bathtub warm clear water….what's not to like! Told Kathy we should look for a timeshare week down here.
Note: Before a lot of speculation starts, let me explain who Bonnie Shannon is. I hired Bonnie at Rancho Santa Fe Technology where we worked, fought and laughed for a number years. I retired in 2008 and moved to San Luis Obispo . We kept in touch then two years ago, after a family tragedy, she pulled up roots in San Diego and moved to Florida. She's a great friend with a huge heart. We had some catching up to do for sure!
 June 24 Tampa
Worked on Bonnie's Harley and cleaned mine then went online and ordered a new set of Performance Suspension springs and shocks for the forks to replace the stock units that I had modified before leaving California. I had shortened the stock fork springs thinking I could lower the bike a bit and take some of the softness out of the front end. Really should have test rode the bike fully packed before I left on the trip but I was in a hurry. Another failed shortcut. The frontend of the bike was bottoming out on every bump in the road resulting in a harsh ride and one hell of a beating from California to Florida.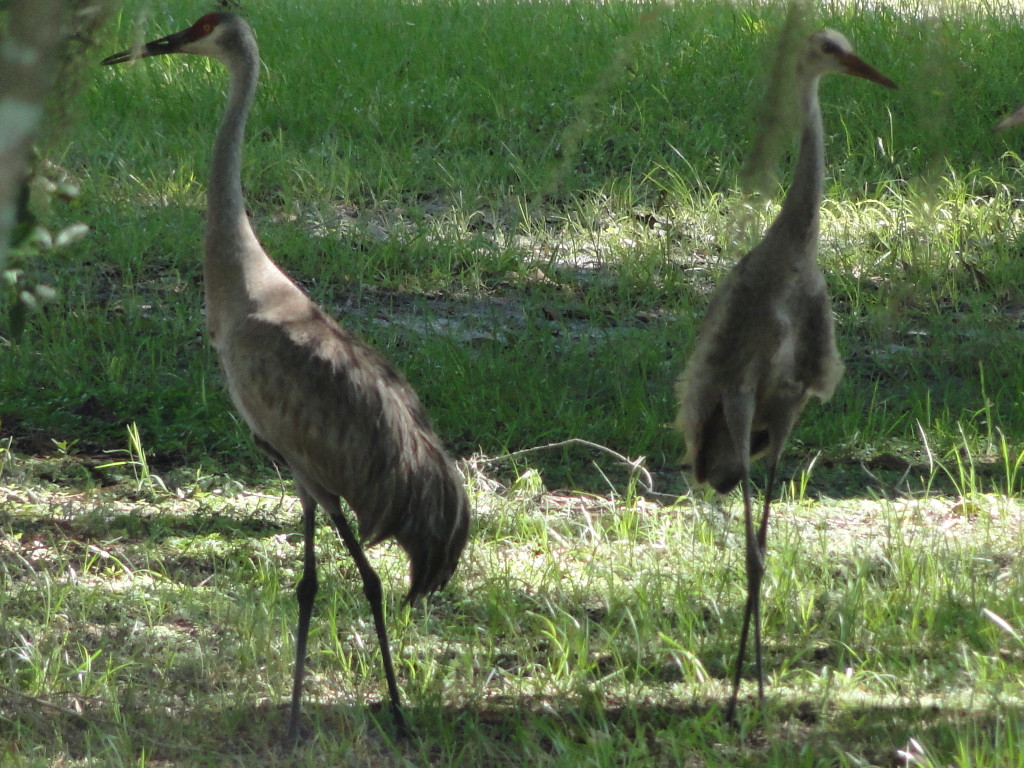 Cranes in Bonnie's backyard
June 25 Tampa
The parts arrived for my front forks and Bonnie jumped on the phone and went hunting for a dealer in the Tampa area to install the new springs and shocks (I think she was motivated to get this freeloader out of her house). The nearest dealership that could take me on short notice was in New Port Richie which is an hour drive Northwest from Casa Bonnie in Riverview. Bonnie followed me down there to drop the bike off and it was then that we discovered that they needed to order a part and the bike wouldn't be ready until the following day. I elected to find a room in New Port Richie to spare her the two-hour round trip drive from Riverview the next day.
June 26 New Port Richie
Sat around the hotel lobby all day waiting for a call from the dealer and finally heard from them late in the afternoon.  On the final test ride at the end of the day the mechanic found that the shift arm had worked it's way loose and predicted that it wouldn't hang together to the end of my journey home. He pointed out that he had already replaced the bolt on the shift arm so the problem had to be a worn spline. It was too late to work on it that day so I elected deal with it in the morning and rode back to Bonnie's for one more night.
Decided to take my chances on getting the bike repaired at another dealership on my route instead of going back to New Port Richie which was a little out of the way. Gave Bonnie a big hug and headed east towards Orlando.
Stopped at Lakeland Harley and got lucky. The mechanic was able to resolve the problem by simply tightening the bolt holding the shift arm on the shaft. They got me out the door in less than an hour.
So what the heck was going on with the mechanic and service writer in New Port Richie who told me they'd replaced that bolt and it wouldn't stay tight and that the only solution was to pull the primary case off and replace the shift arm which would have cost a significant amount of money and cost me another day? Scam????
Left Lakeland and decided to skip Orlando and instead go south to Hwy 60 and head east to Vero Beach on the Atlantic coast. Passed through miles of orange groves and at one point came upon cattle grazing under palm trees …wish I could have found a place to pull over and take a picture of that.
Made it to Vero Beach and had to stop for a pic of the Atlantic.  I  had really ridden from coast to coast…..wow!
Started riding north on the coastal road and found a beautiful boardwalk that I couldn't pass up. Stopped to enjoy the view and try to absorb it all.
Left Vero Beach and started the northern trek on Hwy A1A. The weather was perfect and I felt like I could ride forever. Finally stopped at the Tuckaway Shores motel on the beach in Melbourne. Couldn't wait to put on some shorts and get some pictures of the sunset.
And a glorious sunset it was.
The beaches here seem to go on forever.  It's legal to drive on beach and the sand compacts so well that cars don't get stuck. So haul out the station wagon, pack up the kids, the dog, the BBQ, the umbrella and sunscreen and head for the beach. Nice way to live.
Stopped at the Kennedy Space Center and took a tour of all things space. Left there in time to miss the afternoon storm and find a beachfront motel in New Smyrna which is just south of Daytona.
Took a walk and It's easy to see why they once raced cars on the beach here back in the day. Flat beaches that consist of amazingly fine sand that after the tide goes out is so compacted that your foot prints barely leave a mark. Wish Kathy was here to enjoy the beauty of it all.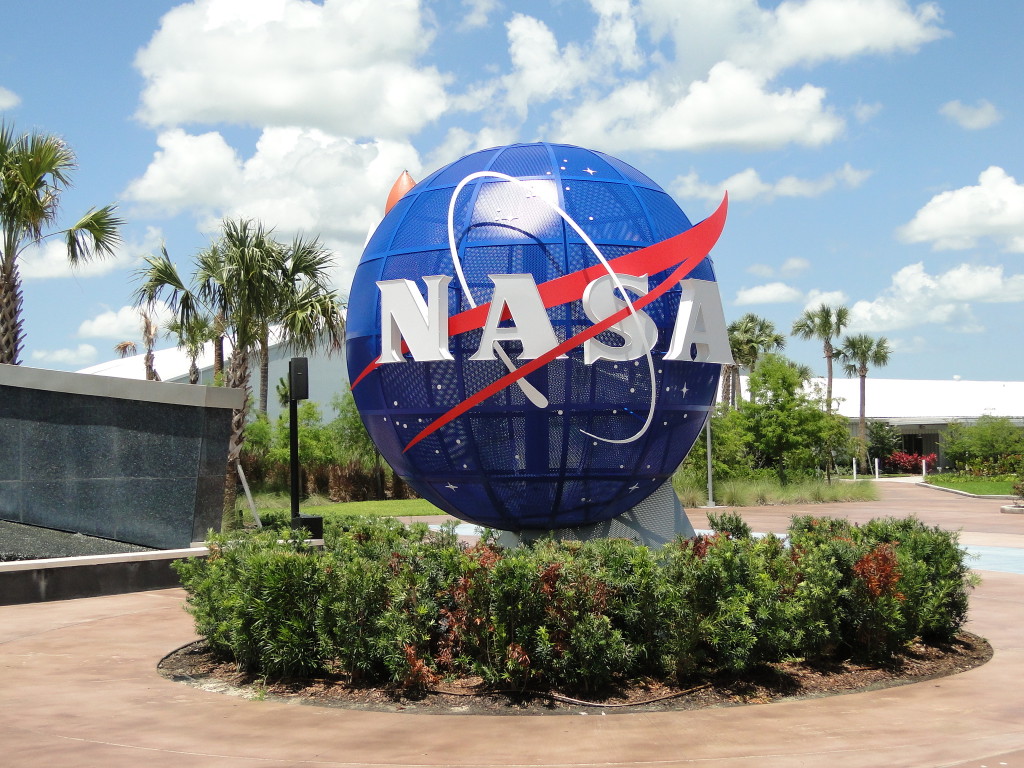 My first stop of the day was Rossmeyer Harley in Daytona Beach and it's a good thing it was because the sky let loose with some intense rain for over an hour as soon as I arrived. Aside from being one of the largest dealers in the U.S., it's in a plaza surrounded by a motel, restaurant, a bar and many biker-oriented shops, including my number one aftermarket shop, JP cycle. In other words, it's biker heaven!
Reluctantly left Daytona Beach and continued north on the coastal road where much to my surprise I found an armadillo 100 yards from the Atlantic ocean. Rode thru all those desert states where these darn things are supposed be and never saw a one. Go figure.
Pulled in to St. Augustine late in the afternoon and found a room. After a shower and change to shorts a walking tour was in order. St. Augustine is the oldest city in America and it is quite a sight. An amazing number of shops and eating establishments are in buildings that date back to god knows when. This is also where the Spanish built Castillo de San Marcos there first fort and mission in the 1672.
Something that's becoming more evident is my lack of interaction with other people.  Being an introvert and not going to bars has really limited my conversations to folks at gas stations and hotels.  It's like I'm traveling and living in a bubble.  Takes some getting used to.
Next stop will be somewhere in Georgia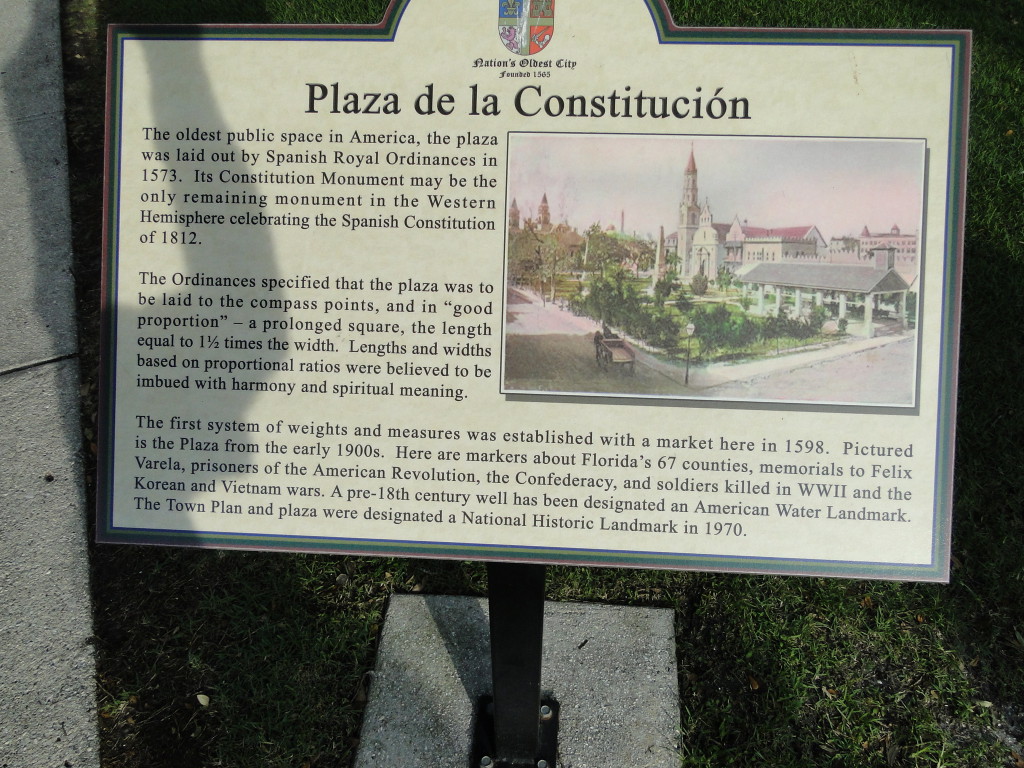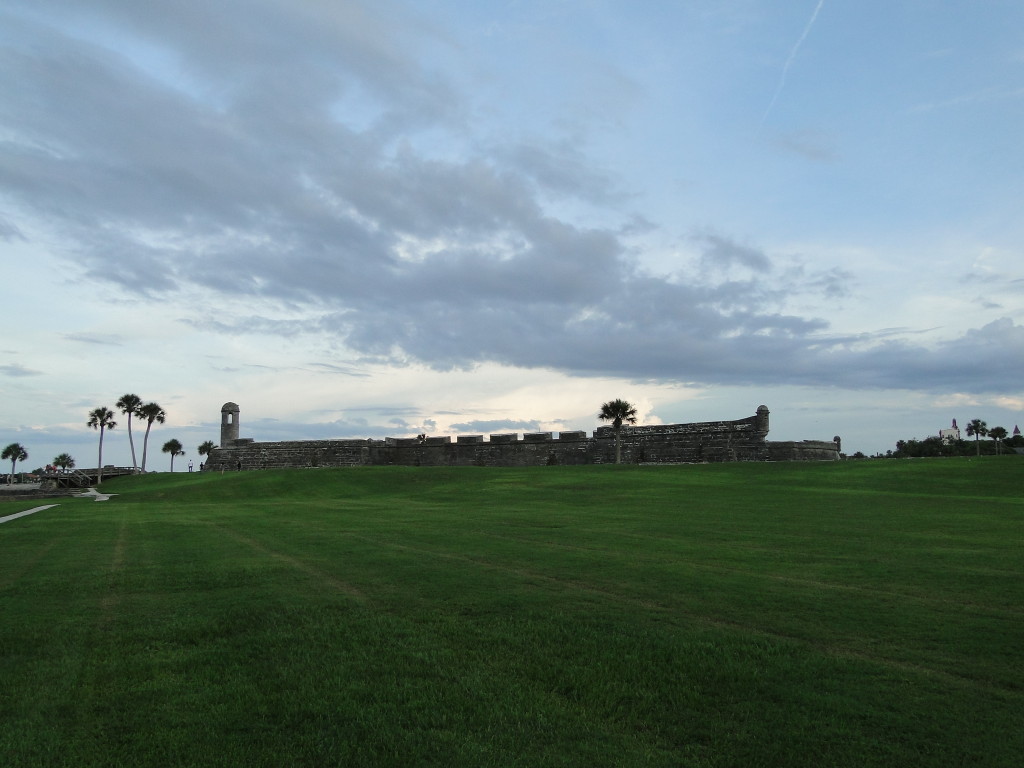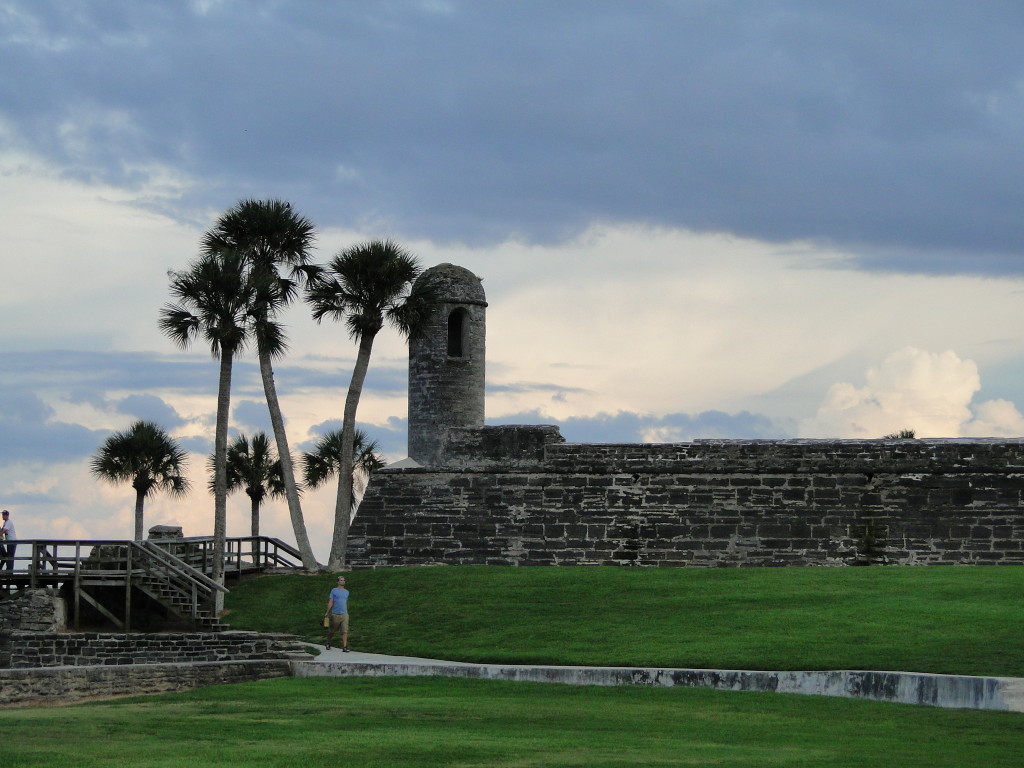 Left St. Augustine on the a1a coastal road headed towards Jacksonville and saw a multitude of road cyclist riding this long straight flat road along the sand dunes and wished I could join them.
About 10 miles south of Jacksonville there was a transition from clapboard beach houses to modern beach mansions then private communities with private golf courses and tennis clubs. A Harley rider stuck out like a sore thumb and created a disturbance in the force.  I liked it!
Didn't spend any time in Jacksonville and continued on a1a north. After a few miles the road abruptly stopped at a ferry crossing. Never one to miss a chance to get on the water I was stoked. The guy pictured on the yellow bike on the ferry was one odd fellow.  He's a American but I could only catch about one out of every five words he spoke.  never did figure out where he was from or where he was going.
After my short ferry ride it was time to hit the interstate and high tail it to Savannah before the rain hit. Crossed into Georgia and had my fingers crossed that I'd dodge rain but sadly it didn't work out that way. Hit moderate to heavy rain about 10 miles south of Savannah and found myself crossing in to South Carolina before I could find a place to turn around and back track 25 miles to the exit for my motel. Riding in warm rain isn't as bad as you might think and I'd take it over 90 plus temps with high humidity.
Staying 2 nights in Savannah to play tourista  soggy boots and all.
July 1st Savannah
Rode to the visitor center in downtown Savannah today and took a 90 min. trolley tour of this famous city and all I can say is WOW! There is so much to do and see that we could easily spend a week here and not scratch the surface. Taking pics from the trolley was nearly impossible so I gave up on that idea but will go back tomorrow and give it a shot.
There are an endless number of amazing Victorian and other period homes and buildings which date back as far as the 1600's. Fine dining, shopping, bars, river walk and so much more. Saw the park where they shot Forrest Gump sitting on the bench eating chocolates, the home of the founder of the girl scouts, the house that was the center piece of the book "Garden of Good and Evil", and so so much more. Oh, and while we were at the Forrest Gump park the guide told us there was a Forrest Gump impersonator with the clothes, briefcase and speech that hung around the park and had the act down. Too bad we didn't get to see him.
The rain came in sooner than expected after the tour ended so I had leave downtown and return to the casa.
St. Petersburg, FL, Melbourne, FL, New Smyrna, FL and Savannah, GA are on my list of places I'd love to come back to for a vacation.
After a stop in downtown Savannah tomorrow I'll be heading into South Carolina stopping in Myrtle Beach for the night. This trip continues to amaze at every stop.
Well so much for good intentions. Got to downtown Savannah this morning and it started raining. That combined with tour buses, tourists in cars and limited parking defeated my efforts to take any pictures. Headed north on hwy 17 towards Charleston and rode the next 100 miles in a moderate rain. The good news is that hwy 17 is lightly travelled and it was easy to maintain good spacing between the cars and occasional truck. All went well until I was 10 miles from Charleston when the traffic started build up and the rain went from moderate to heavy to severe in the span of about 5 minutes. Found a gas station and waited for it to blow over.
Once out of Charleston the rain stopped and it was clear sailing to Conway which is 17 miles inland from Myrtle Beach. In the last mile before reaching the motel the sky opened up and I got another blessing from the rain god. This seems be a daily event and it would be nice to arrive at a motel at the end of the day not looking like a drowned rat once in a while.
Next stop Hampton, VA for a two night stay. Hoping for a good fireworks show and no surprise visits from my arch enemy the rain god.
I came across a roadside fireworks stand that was selling m80 cherry bombs and TNT. Really TNT that's a serious explosive …..where's homeland security? Later I found an advertisement for a shooting range where you could pay some serious money to fire fully automatic weapons which is just crazy since you could buy one from a  gangbanger for the same price.  No doubt about it, things are different here
Sleep is calling ….
Stayed at the hotel until 11:30 am while a storm blew thru the area.  Used my down time to make a hotel reservation in Hampton, Va. that would come back to bite me later. Did a drive-by of Myrtle Beach. It's much like any of the big seaside communities with multi story hotels and condo's stacked side by side all along the strand. There's an amusement park much like the one in Santa Cruz, curio shops, dining, beach equipment rentals, and the usual retailers you'd find in a town like this.
Made the mistake of heading north on hwy 17-business and had the pleasure of what seemed like 10 mi. of slow traffic and an endless line of retail stores, tire shops, fast food places etc.
Once back on hwy 17n I thought it would be fun to detour out Hwy 20 to Cedar Island and take the ferry to the North Carolina Outer Banks which run all the way up to Kitty Hawk. It was farther than I expected with multiple lights in every township and speed limits of 30-45 mph . How long did it take? Long enough for me to arrive at 6:30 an hour after the last ferry left.
Plan B
A ferry worker told me about an alternate route back to hwy 17 that was much faster and would eliminate all of the little townships. Brilliant idea so off I went. Things were going great at 50-55 mph out on the country roads until I rounded a curve and found a long line of cars stopped and no traffic coming in the opposite direction. No one seemed to know what was going on so I decided to investigate. Rode to the front of the line and found two fire engines blocking the road in both directions so I asked the lady sitting in her car at the front of the line what happened. Apparently a guy who was parked behind her had walked up to the scene and discovered that someone had died. No other details. So I walked up there and didn't find a car accident but instead a house with crime scene tape around it and a lot of cops looking serious.  My conclusion was that it was a huge drug bust or murder and the cops would be at it all night.
Plan C
Drove 20 miles back to where I had turned off and started back on hwy 20 and had the rare pleasure of getting another opportunity to travel at the frightening speed of 30-45 mph back to hwy 17 with a cop checking me out in every township I went thru.
The world is full of surprises and this one came compliments of the state. It seems in their infinite wisdom they elected to save precious state dollars by not putting any street lamps on this road creating  a narrow pitch black 2 lane hwy. It was there that I discovered my headlight was out of adjustment and pointed to low to give me a good view of the road. It took 20+ miles to find a well-lit safe place to pull over and readjust it. By now it was starting to feel like I was in the twilight zone but I pushed on.
South of Hamilton I stopped in at a convenient store at 2 a.m. and asked them how to get back to Hampton….I thought I'd over shot it. One of the clerks was clueless but the other one was pretty sharp but kept trying to give me directions that didn't make sense.  Finally after 20 minutes of going round and round I gave up and took her word for it even though I knew she was wrong….maybe. As it turned out she was right and I was out of it from being on the road for so long and wired on Red Bull energy drinks. Finally arrived at the hotel at 3:00 a.m. The upside was for the first time in many nights I wasn't walking up to the front desk sloshing around in wet boots and leaving a puddle everywhere I went.
Plan D
Sleeeeeep!
July 4th Hampton/Newport News, VA
Took an easy day and went out to Virginia Beach after a quick visit to Dismal Swamp to see what it was all about. It was a larger version of Myrtle Beach swarming with tourist and all of the usual stuff. The high heat and humidity didn't help and I was still tired from last night I decided to go back to the hotel and get some quality time in the hot tub. After a good soaking I spent an hour trying to get a posting up on the blog and check e-mail. The Wi-Fi signal was so marginal that I gave up and went downstairs and got on the house computer and did the deed. Skipped fighting the traffic to view the July 4th fireworks and called it a night.
Tomorrow I leave Hampton and ride across the Chesapeake Bay bridge, which is something I've always wanted to do. Destination Salisbury, Delaware.
No rain in the forecast….just more sweltering heat and humidity!
Waited for the rush hour traffic to subside before departing Hampton and venturing over the Chesapeake Bay Bridge to the eastern shore. There is no picture other than one taken from a plane that can capture the immensity of this body of water. Wow!
Once over the bridges and thru the tunnels that make up this crossing I headed north on hwy 13 and was so happy to be in the country again. Farms carved out of the forest, moderate traffic and clear weather. Not one to be satisfied with just traveling hour after hour on one road I took a couple of excursions into small quiet rural towns. After seeing the sign for Chincoteague Island I decided to check it out. It's a quaint seaside resort and couldn't resist taking a couple of pics after lunch.
Went back to the highway and continued up the shore to Salisbury, Md where I held up for the night.
With the slower speeds limits the miles traveled are less than I had been riding but I'm still on the saddle the same number of hours. No rain is a blessing with one significant catch…..it's hotter.
Tomorrow I'll cross over to New Jersey on the Cape May ferry and continue north on the shoreline.
After a readjustment of my rear shocks I rode over to the dollar store before getting on the road. Some #$%&*:; lifted my sunglasses off of the dash of the bike when I went in to a 7-11 a couple of days ago so I picked a replacement pair for $1.00 which will probably never be stolen.
Note to self "always check to see if the ferry takes reservations".
Arrived in Lewes, Dl to hop on the Cape May ferry to the Southern tip of the Jersey shore and to my dismay discovered that if you don't have a reservation they put you on standby. There's a deli in the ferry bldg. and as I was searching for a  soda a young solder walked up and ordered a lunch. Brought back a lot of memories of being in the army and feeling so alone and isolated so I interrupted the cashier and bought his lunch and thanked him for his service. Finally got on the boat at 5:30 and rolled off at 6:30. Now this may sound bad but in its own way it was a blessing in disguise. I had sat out the hottest hours of the day in the air conditioned terminal and could ride in better conditions with less traffic in the early evening.
And a beautiful evening it was! Cruising the Jersey Shore on tree lined streets, the smell of BBQ's in the backyard, old clapboard houses in immaculate condition. Nice way to finish the day as the sun slowly set.
Started the day is Asbury Park and headed north towards New York. After a few wrong turns I go on the Veranzano Narrows Bridge heading to Long Island. Paid a princely sum of $13. for the right of passage and oh what a passage it was. The expansion joints are the worst I've ever encountered and it took all my skills to keep the bike from going airborne over the rail. The pounding was so severe that I'm now 2"shorter from the compression of my spine.
Opposite of the toll plaza on the far end of the bridge there was construction which turned out not be a bad thing. When I neared it the driver on my left started honking his horn (they seem to do that a lot here) and franticly pointing at the rear of the bike. It only took a quick look to see that the left saddle bag was dragging on the ground. Swerved in to the construction area just as the bag fell off. While struggling to bolt it back on a biker pulled over and asked if I needed help. He left and next came a woman from the toll plaza wanting to know if I was ok. These 3 people were certainly different from the New Yorkers I'd been told to expect which was rude, impatient and indifferent. Did these three just move to town or are New Yorkers actually nice caring people?
Once fixed I got off of the bridge at the first available exit, drove past Coney island and continued on towards my final stop in Hauppauge.
Along the way I stopped at a gas station and asked the newly arrived immigrant behind the counter if they had maps of the area. His face went blank then said "I not be here" ……not quite the response I was expecting so I said thanks and slipped out the door.  Life here must be tough for him.
Kathy will be here in 2 days. Yaaaaaaahooooooo
Feeling pretty beat up but decided I couldn't come this far without riding to the end of long island….so I did. Passed through the Hamptons along the way and wondered what Gatsby would think of it now. Met some nice folks on my stops and once again was impressed by how beautiful long island is. Cooler weather than inland, polite drivers, lovely homes and some really cool Ferrari's.
There was one photo I regret not taking in the Hamptons of a sign that said "No limousine Parking during services" at the church. I guess that's the common mode of transportation to church on Sunday when you live in the Hamptons. Such a hardship.
Arrived at the Montauk Lighthouse at the eastern tip of Long Island and was able to catch some pictures. While there I met a group of Italians that were taking pictures of themselves in a variety of crazy poses with the lighthouse in the background. I asked them if the they took my photo and they insisted I strike a pose for a second picture……….being the gracious American that I am how could I refuse.
Kathy arrives tomorrow.
Dropped the bike off at New York Harley which is in Long Island City, Queens
Kathy picked me up in her limo on the way in from JFK. Not going to tell you what happened in the back of that limo……….but we eventually made it to the Jade hotel in Greenwich Village.
 July 10 New York City
Try to pick Kathy out of this photo. Hint…..she's the only one with an umbrella

From the ashes the new World Trade Center Rises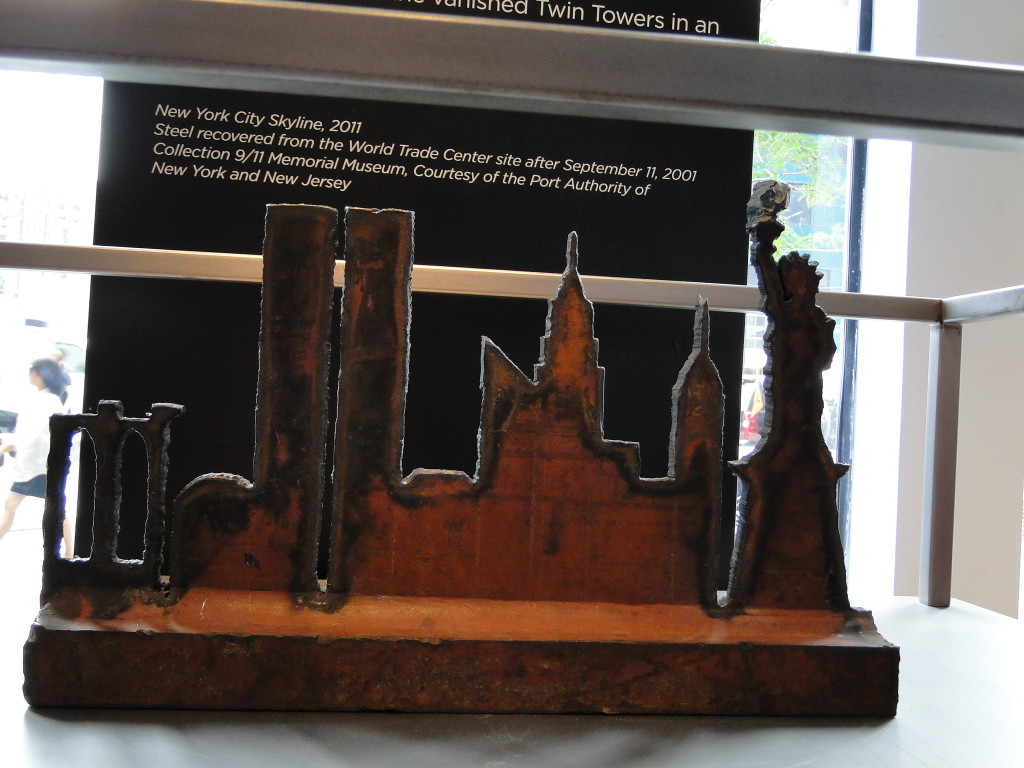 After leaving the World Trade Center Memorial we wondered over the East River and found these two really great ships.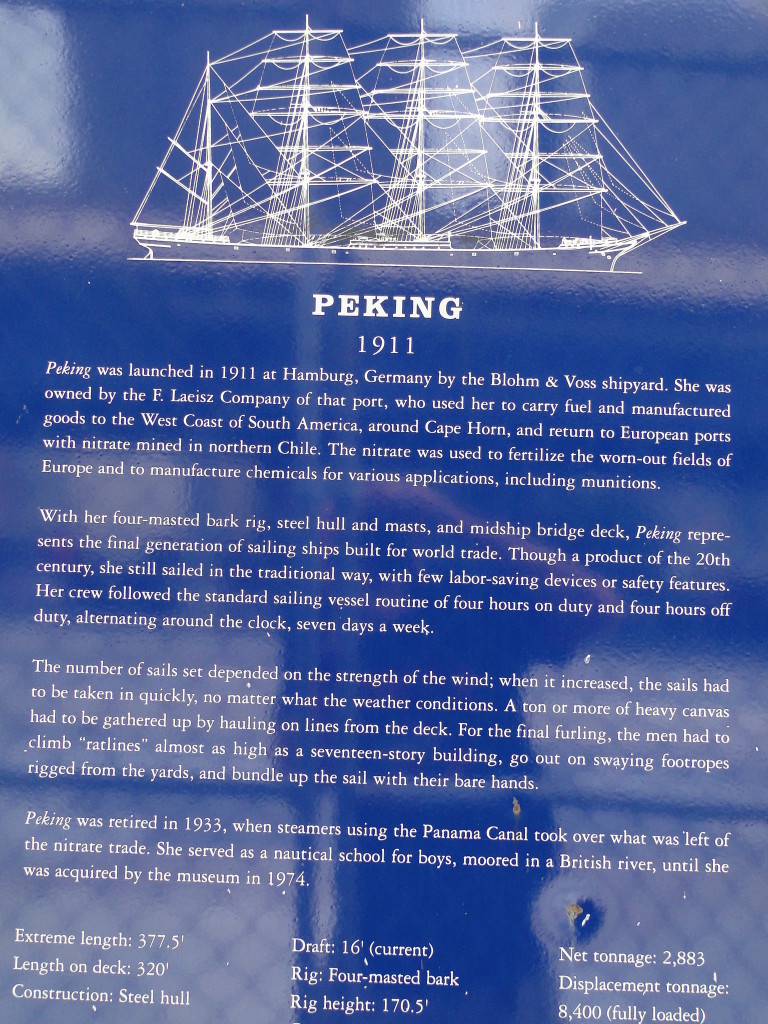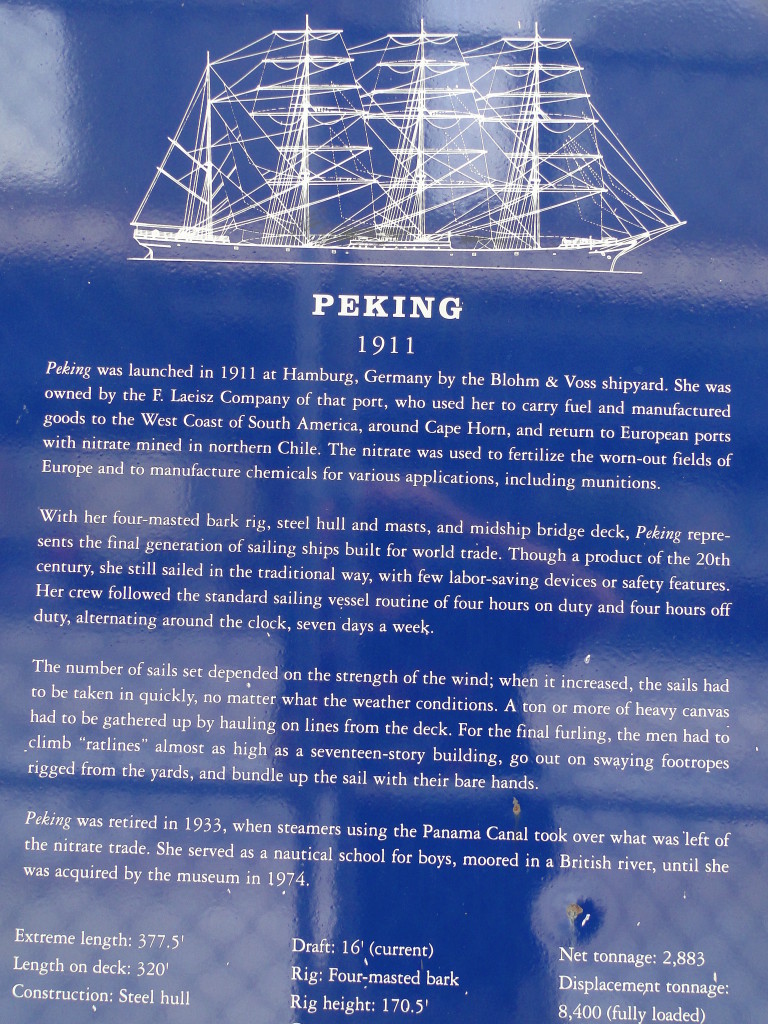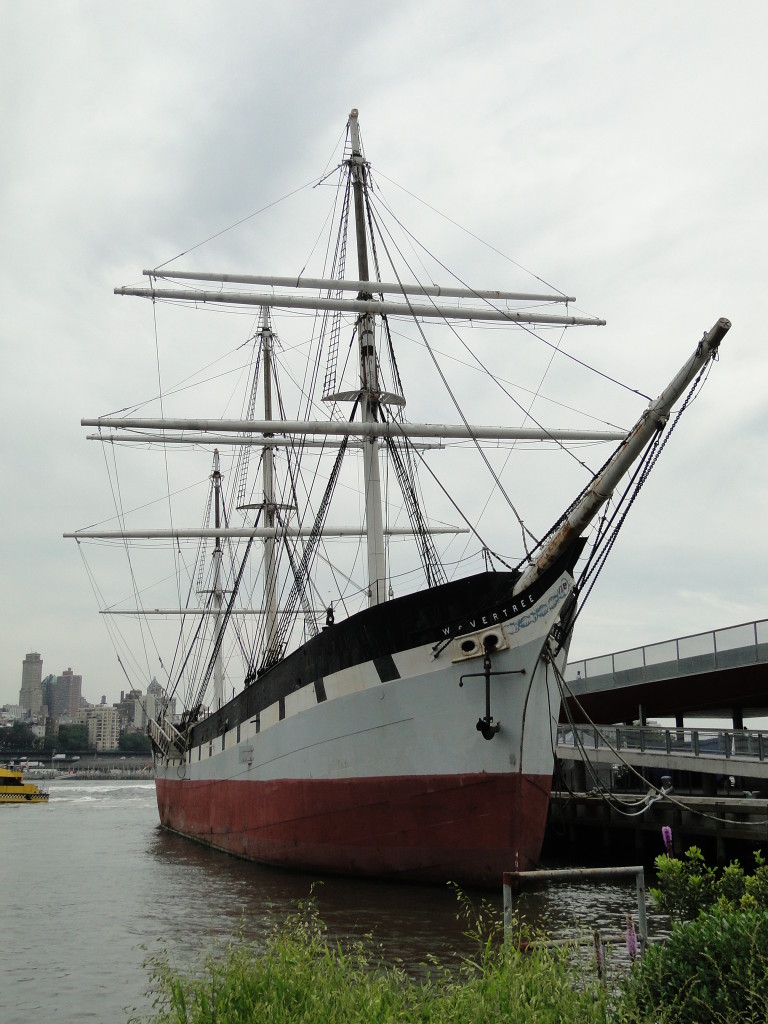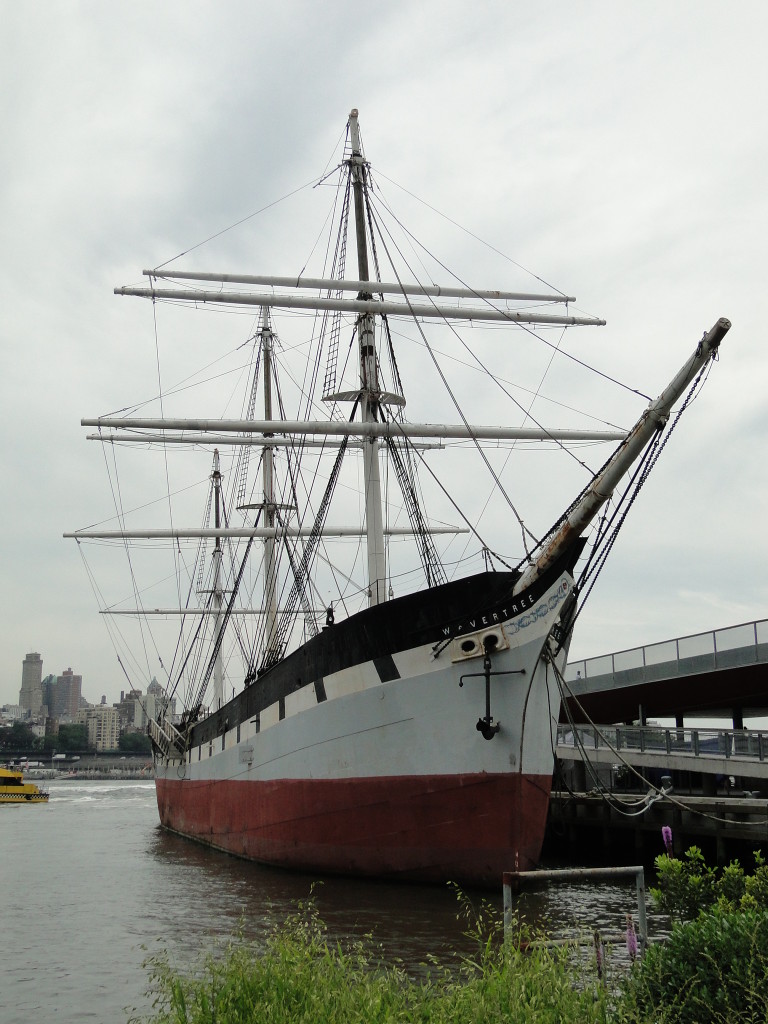 Got on a tour bus and went from Battery Park up to Central Park, Times Square, before heading back to the village for a nice Italian dinner.
July 11th New York City
Took the subway uptown to the museum of modern art and gave it a whirl but didn't really connect with the exhibits. After the museum we headed off to Central Park where it started to rain so we opted for a tour of the park in a horse drawn carriage.
Next stop Times Square which we discovered yesterday isn't a big square but the people watching more than made up for it. Hit the three story M&M store, which is like happy land on steroids, and…..well got some M&M's.
Finally made it back to the Jade hotel in the village for a power nap and…………….
Went for a late dinner at the Kingswood in the village for an outstanding meal.
July 13 New York City
Slept in then took the subway uptown for the matinee showing of Kinky Boots the musical with music written by Cyndi Lauper. New York continues to amaze me and this time it was the subway. We were expecting dirty and crowded and instead got clean and nice.
Loved the show and afterwards we took a stroll up to central park.
and stopped at the Dakota where John and Oko lived. Sadly Oko wasn't there to greet us…….if she'd only known
Took a cab back to the hotel for a little r and r before going down to No Ho (north of Houston St.) where we didn't see no ho's. After a great dinner we strolled thru Washington square where we found a musician playing a grand piano on a warm night to a romantic crowd.
 July 14th New York City
Went uptown to the Metropolitan Museum today for an afternoon of touring about a third of this amazing site.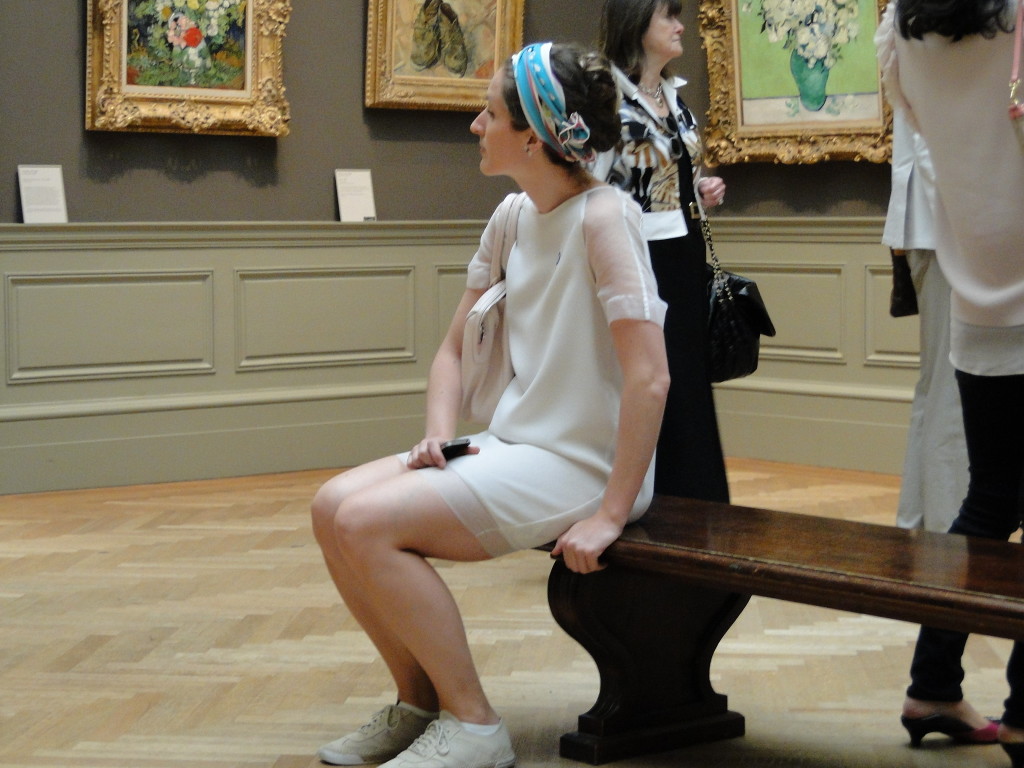 Took a break for a snack on the roof of the Museum
Stopped at the Rockefeller Center on the way back to Greenwich Village and took some pics from the roof.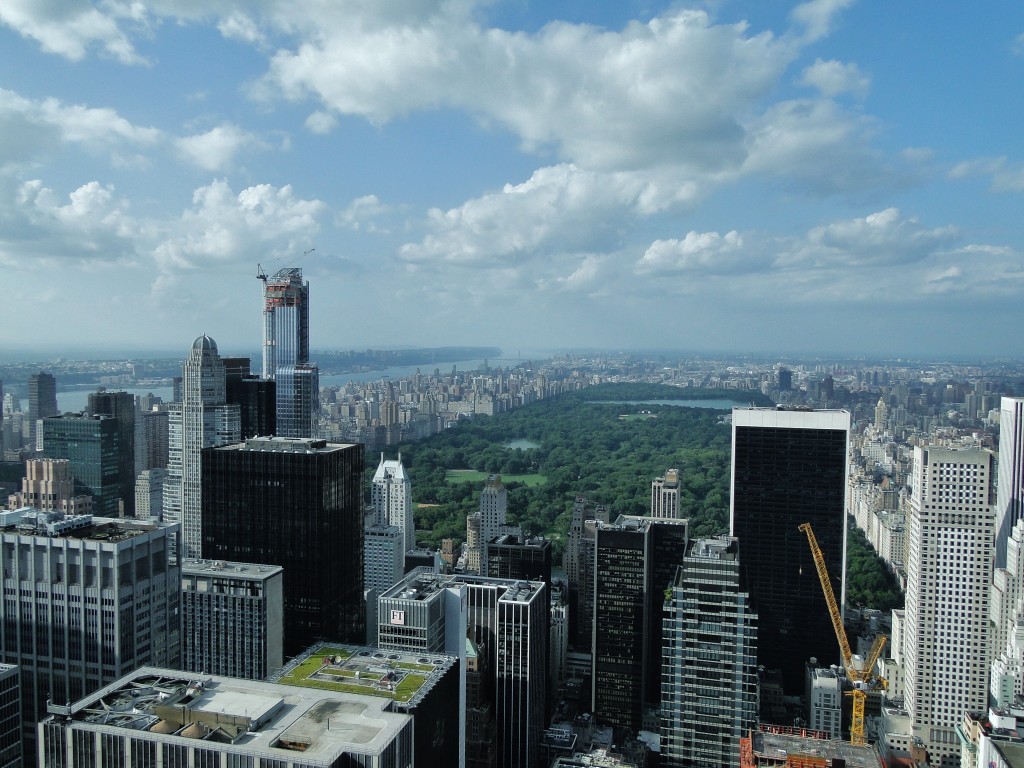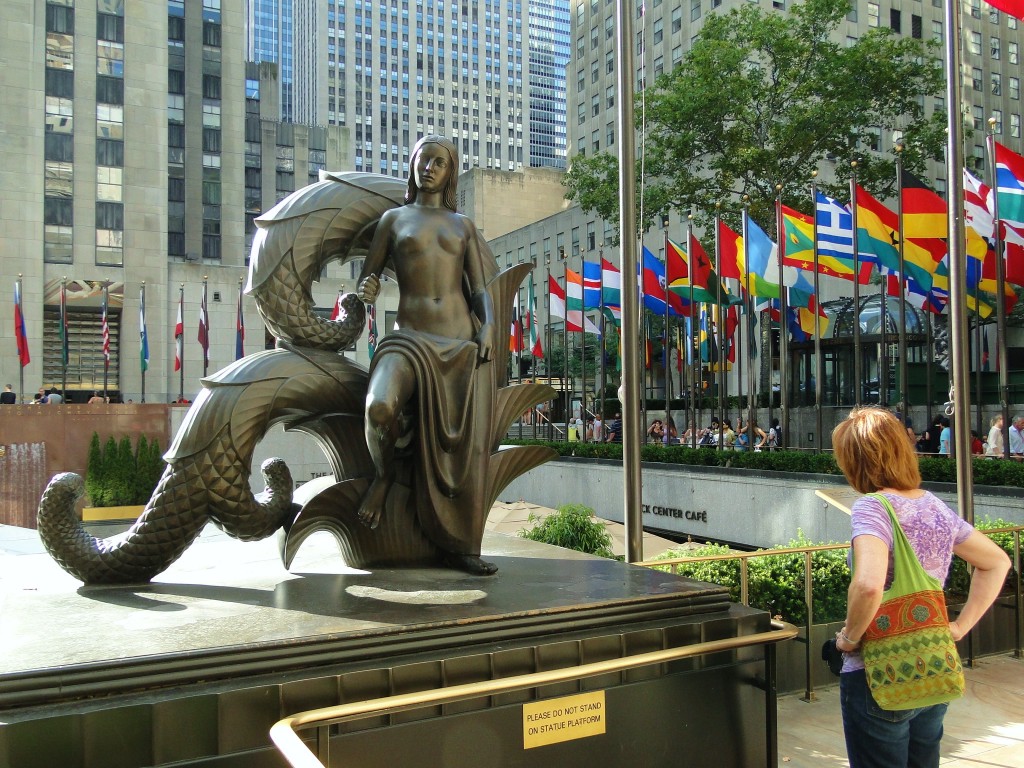 After a leisurely meal in the shadow of the golden sculpture of Prometheus in Rockefeller Plaza we continued our walk an stopped at Grand Central Station before heading home
.
July 15th New York City
Today were taking the boat cruise around Manhattan and on the way to the boat  we found this amazing children's slide.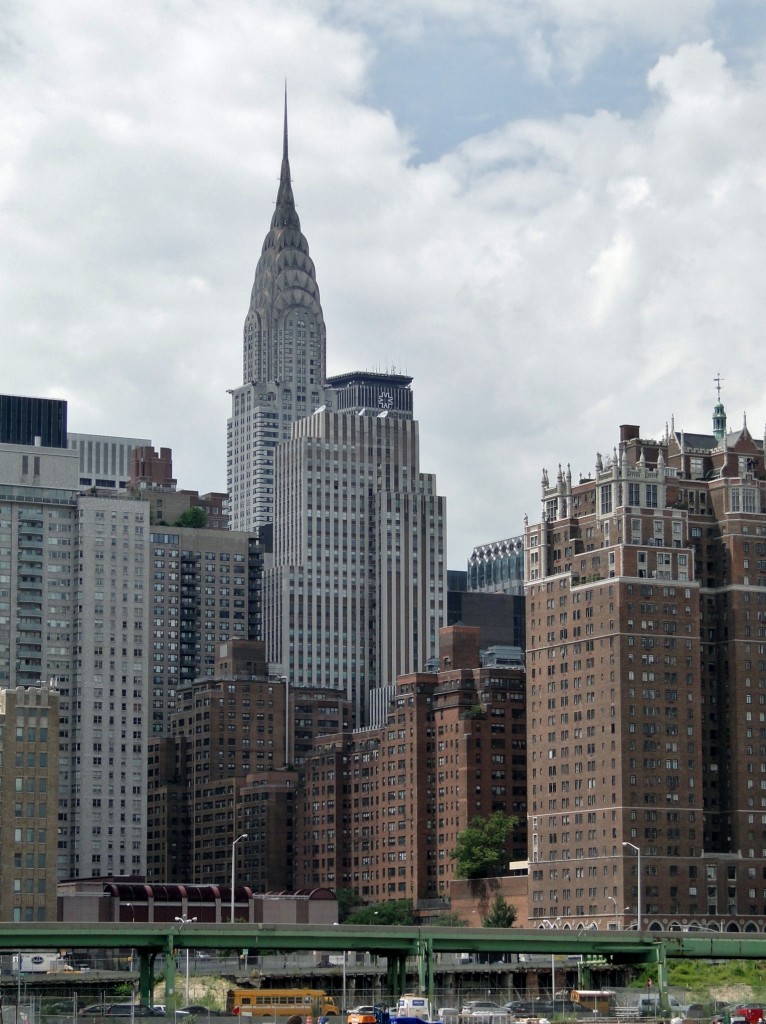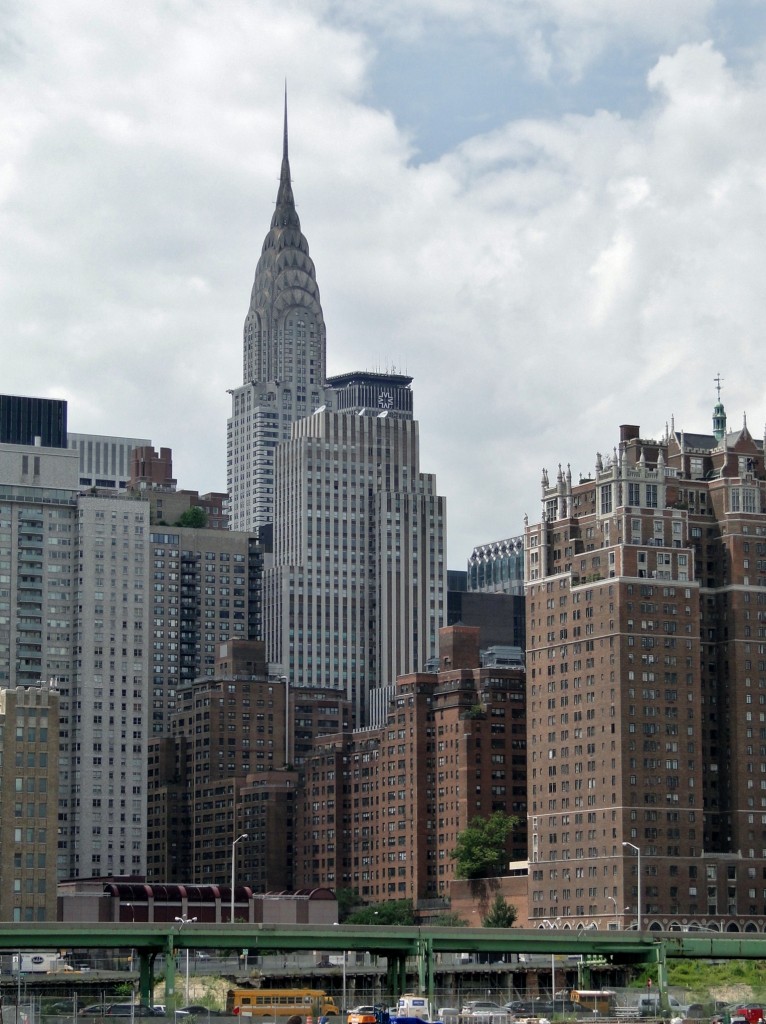 There has been an almost unbearable heat wave while we've been here and we shouldn't have been surprised when the captain announced that we couldn't complete the circumnavigation of Manhattan Island due to a problem with one of the bridges. Apparently the steel deck of the bridge ahead had gotten hot enough to expand to the point where it wouldn't open and allow us underneath. We turned around  backtracked around the southern end of Manhattan and returned to the dock travelling up the Hudson River.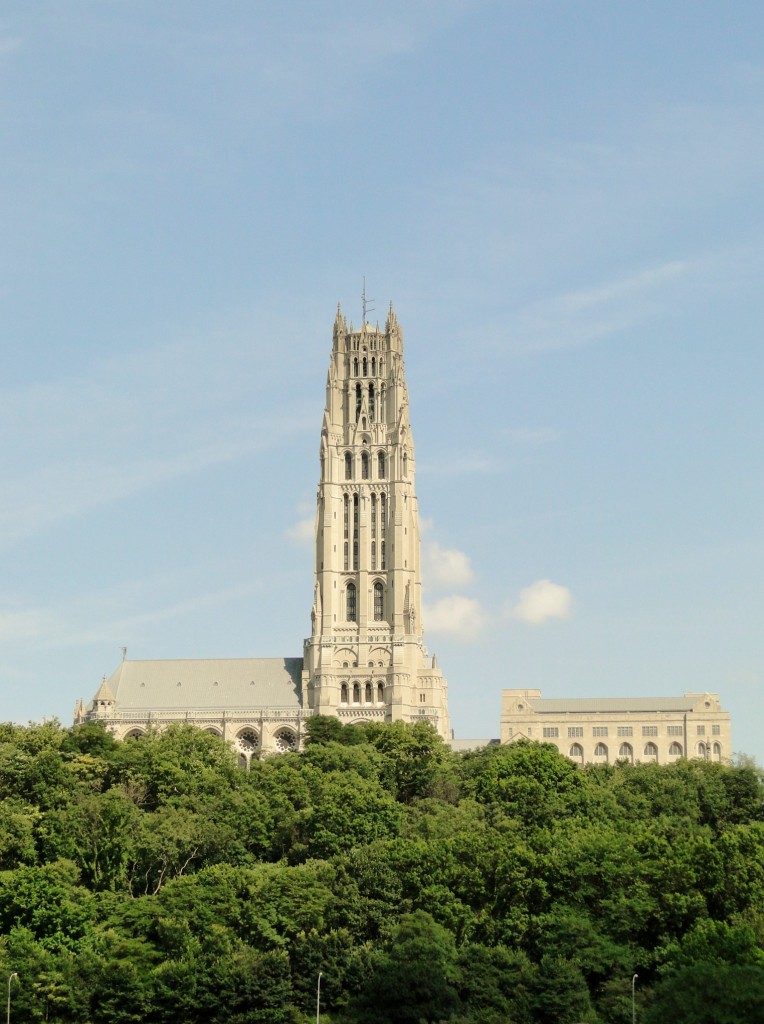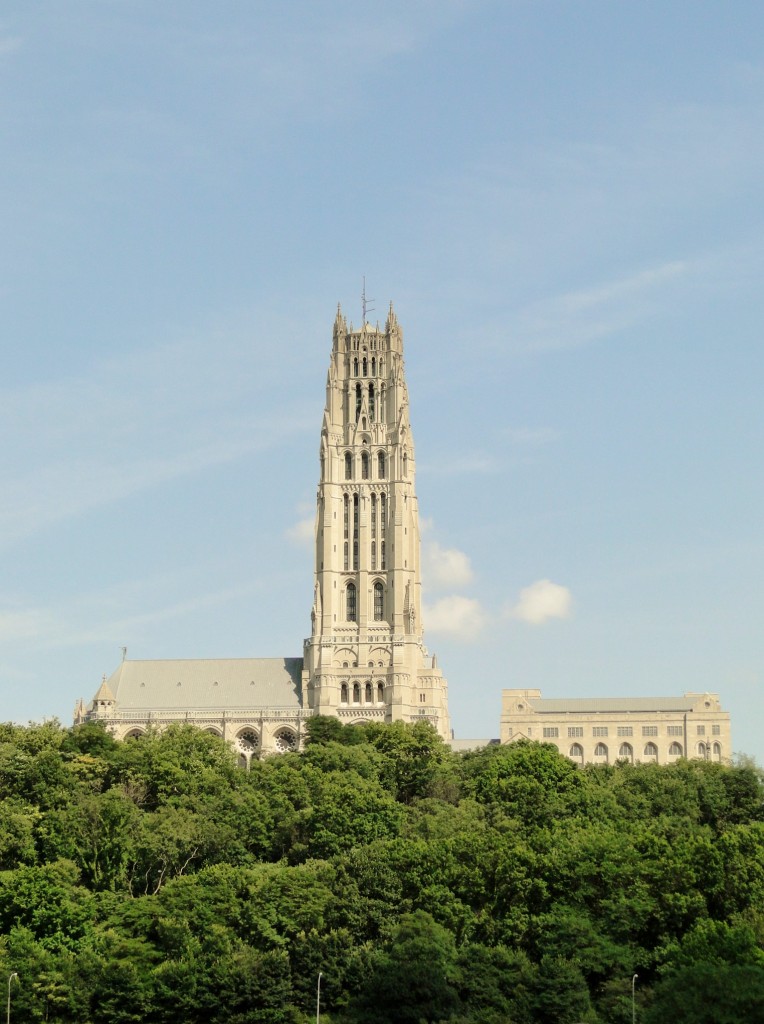 After almost 3 hours on the boat we decided to walk back to the hotel. Along the way we found Hi Line Park which is built on an abandoned elevated train track. One of the many things that's impressive about New York is how they've managed to create people friendly spaces regardless of size or shape of the plot.
July 16th New York City
Kathy had lunch with a work friend and I had a leisurely day of people watching in Manhattan. Temps were in the 90's with significant humidity so we took it easy in the afternoon and had an early dinner in the meat packing district.
Tomorrow morning we check out of the Jade hotel and won't see each other again for 3-4 weeks……..ouch
The return trip NEW YORK TO SAN LUIS OBISPO